Explore south east London's underground art galleries
Nondescript doorways on the corners of South East London's streets lead to some of the most progressive contemporary art in the capital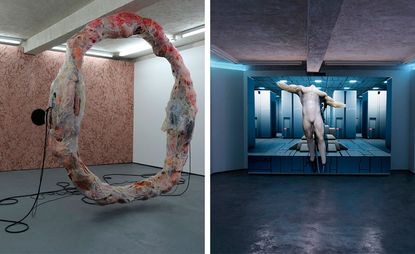 (Image credit: Andrew Sunderland/Caspar Sawyer )
Echoing the 'apartment exhibitions' of Soviet non-conformist art collectives, the new wave of contemporary artists, curators and gallerists have looked to alternative spaces to escape the elitist London art scene.

From Deptford High Street, Peckham Rye to Bermondsey's industrial district – these galleries are situated in unexpected locations and are, in most cases, undistinguishable to their neighbours if it wasn't for a small sign above a door.

Open only on weekends or by appointment, Hannah Barry Gallery, Gossamer Fog and GUTS Gallery are all showing a diverse mix of exciting, inclusive and innovative art.

Working directly with local universities and emerging talent, these secretive spaces are creating new equal opportunities for emerging artists to display contemporary work with fantastic results.
Gossamer Fog
Two doors down from the great Lai Loi Vietnamese supermarket sits 186a Deptford High Street – otherwise known as the artist-run gallery, Gossamer Fog.
'Opening a gallery had been a dream of mine for many years, my initial idea was to open a small industrial space with a few studios to subsidise some of the gallery rent, but in the end that ended up being too expensive.' Samuel Capps, Gossamer Fog's director tells Wallpaper*. 'After about a year of looking at properties, I found my current location which was a really run down, dirty and old nightclub venue.'

After six months of refurbishment, Capps established the gallery in 2016, where Gossamer Fog instantly became the forefront of new-media art – working with VR, AR and more traditional media that address contemporary societal issues.

At Capps, artists use this media to satirical and dystopian themes. Take the late summer exhibition, Tangled Depictions by Michele Gabriele, which explores the radical shift in how we use information, analysing 'the foundation of today's knowledge-intensive capitalism' with a series of dinosaur/cyborg hybrid heads, one of which is wearing a pizza around its neck like a statement neckpiece.

Awarded funding from the Arts Council, Goldsmiths Alumni and Friends Fund and Danish Art Foundation in 2019 alone, Gossamer Fog shows no sign of slowing down – certainly a gallery to keep on your radar in 2020.
GUTS Gallery
Newly established Guts Gallery has dedicated itself to provide the much-needed platform and support system for underrepresented contemporary voices in the industry – BAME, queer, working-class, women and struggling artists.

Tucked away in a refurbished warehouse studio in Bermondsey, Guts Gallery exhibits a wide range of established and emerging artists who challenge societal issues. Their opening exhibition featured work from the revered Guerrilla Girls and Mark Tanner Sculpture Prize shortlist Liam Fallon.

As one of the youngest gallerists in the art world, founder Ellie Pennick created Guts Gallery to be a safe space from the inequalities she experienced first-hand in the industry.
Hannah Barry Gallery
A short walk from Peckham Rye Station is Hannah Barry Gallery. Behind its sticker and graffiti-ridden door is a surprisingly large, lofty two-storey space. Founded in 2008, Hannah Barry Gallery grew out of a series of temporary exhibition projects in South London before establishing a permanent home in Peckham. Their exhibitions consistently show some of the most exciting, adventurous and thought-provoking contemporary art in the area.

Featured artists' work follows a strong political and popular cultural narrative. Hannah Barry Gallery's recent installation was the tongue-in-cheek Putin's Happy by Jeremy Deller, a film in and around Parliament Square coinciding with the Brexit Betrayal March last year. The film captures a new and increasingly radical political landscape, shining a light on the nation's discordant relationship with the EU, Westminster and itself.

One of the gallery's most ambitious exhibitions in 2019 was Rosie Grace Ward's merge of medieval aesthetics with cyberpunk fiction. In Yield, influenced by Mark Fischer's Capitalist Realism, Ward re-imagines 50,000 acres of terrain, the property of a fictional agricultural conglomerate, which forges a merger with Nestlé, PepsiCo and Nutrien.
INFORMATION
hannahbarry.com