After a family death, Genevieve Gaignard escapes with a colourful cast of alter egos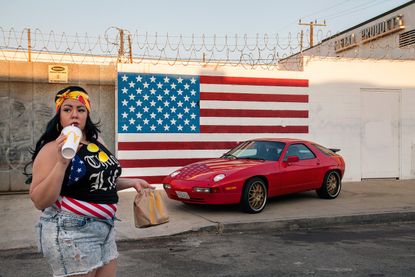 (Image credit: Genevieve Gaignard)
Just as Genevieve Gaignard was being hailed the toast of New York's Spring/Break Art Show last March for her immersive (and impressive) photographic installations, the artist received the tragic news that her eight-year-old niece had died in a house fire back in her hometown of Orange, Massachusetts.

'This has been a way for me to process that,' says Gaignard as she walks me through 'Smell The Roses', perhaps her hardest-hitting installation to date, freshly opened at the California African American Museum. Upon entering the space, visitors are immediately met with two houses. To the right, a shotgun house (graffiti-tagged 'Katrina X') harks back to the New Orleans home where her father was raised, featuring a kitchen/family room setting; on the left, a New England-style abode evokes her niece's bedroom, complete with a pink shag carpet and vinyl wallpapered bedroom/bathroom scene.

The public/private 'psychological spaces' are filled with vintage furniture, household and feminine hygiene products, images of black pop icons, and old family photographs depicting both sides of her bi-racial family, as well as collaged canvases wrapped with the vintage wallpapers that Gaignard treated with chemicals and foodstuffs. 'I wanted [the installation] to go beyond personal loss,' she says. 'I wanted it to reference loss on a larger scale.'

That scale is fraught with the residuals of Hurricane Katrina – the devastating aftermath still resonates with her family to this day, as does the recent escalation of police shootings against African-American communities across America. The latter is being addressed in a back-room 'garden' installation where Gaignard is screening a video of her singing Diana Ross' Missing You, spliced with radio traffic from the police killings. This sits opposite a wallpaper collage with cut-outs of roses covering a discarded shooting target (sourced from a local gun range in downtown LA) – the black paper figure's chest has been ripped open with bullet holes.
'I've been hanging on to [Ross'] song for a while before my niece passed and before the shootings. I was driving around LA one day and just kept playing it. I knew it was going to get worked into something,' says Gaignard, who shot the video in a gold-sequinned dress and a black wig on the basement stage of Echo Park's Machine Project. The flowers are meant to serve as metaphors for the division within the American public, she says. 'Some roses are getting watered and some aren't.'

The space between the environments is where Gaignard has installed new self-portraits in which she plays any number of her characters. These camp, stereotypes-on-steroids alter-egos were all shot in natural light at various outdoor locations around Los Angeles, New Orleans and Massachusetts. The exteriority of her selfies, especially at CAAM, amplify the interiority of her psychological installations.

To wit, the 'nerd' in this show wears a purple sweater and pants (while eating cheeseballs from an oversized plastic tub) to match a similarly lilac-hued house near where she grew up in Massachusetts. Meanwhile, the 'hick' portraits feature her sitting atop the hood of a friend's beat-up car, parked beside the Salvation Army where she bought most of her outfits, or leaning against an ice chest outside of a convenient store with a pack of Newports tucked under her bra strap and a bag of Funyuns in her hands. 'A lot the characters are eating,' says the artist. 'And I think of food as this thing people use when they're mourning.'

Two of the most enticing new characters were both shot near her Jefferson Park studio in LA. One is a red-haired (a nod to the artist's Instagram handle, @creativecurvyginger (opens in new tab)) disco diva brandishing bikini tan lines. The other, a vampy vixen donning acid-wash jeans, unbuttoned to reveal a red-and-white-striped bathing suit.

'We have this notion of what the ideal is – maybe [it's being] skinny or [having] lots of money,' says Gaignard, who works with what she has to appear in this mindset. While the exhibition's preview was competing against the highly-anticipated third presidential debate, the artist was confident that what she was offering some kind of relief from election anxiety.

'I feel like people will get more from this experience than [the debate] – this will be addressing real issues when that doesn't,' she adds. Judging from the heaving crowds at the opening, she wasn't alone in that opinion.
INFORMATION
'Smell the Roses' is on view until 19 February 2017. For more information, visit the California African American Museum website (opens in new tab)
ADDRESS
California African American Museum
600 State Dr
Los Angeles CA 90037
VIEW GOOGLE MAPS (opens in new tab)