Female artists turn minimalism on its head at Shulamit Nazarian's new Hollywood gallery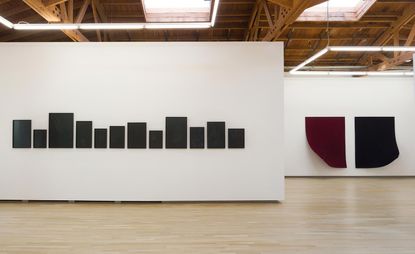 (Image credit: TBC)
When curator and scholar Kathy Battista was researching her most recent book, New York, New Wave: The Legacy of Feminist Artists in Emerging Practices, she realized a number of contemporary practitioners were less concerned with exploring feminism through identity politics and more interested in revisiting the historically male-dominated tropes of minimalism.

'I was just finding a lot of younger women artists working with the cube, the grid, the serial nature of minimalism, the relationship to architecture, and they were projecting their own subjectivity into it through narrative or their history or gender,' says Battista, who gathered the work of seven artists mining this territory for 'Escape Attempts', the inaugural show at Shulamit Nazarian's soaring new 3,000 sq ft gallery in Hollywood.
New York-based artist Sarah Meyohas focuses her work in relation to markets and systems – her final grad school crit featured paintings from a performance of live trading stocks. In the gallery, she is showing two photographs from her Speculation series (pictured above), featuring repeating geometries that are accented with flowers and gradient canvases infinitely receded into mirror reflections.

'She likes the grid, it's this utopian form, but she uses the mirror as a reflection of the marketplace,' says Battista. 'I was interested in the rejection of art history that is more male-dominated.'

A similar rejection can be found in Virginia Overton's 2016 piece Untitled (Waterfall), a found steamer trunk – papered with a bucolic waterfall scene – filled with a sound machine that references Robert Morris' 1961 wooden cube, Box with the Sound of Its Own Making. Battista also installed a cedar plank wall piece from Overton, which the artist culled her sister's farm in Tennessee and then fitted with a blue neon a la Dan Flavin.
Flanking Overton's cube are Cindy Hinant's Makeup Paintings (made by blotting her face against pieces of drawing paper) and Upskirt series of inverted and blackened photographs the titular low-angled paparazzi shots capturing female stars (Angelina Jolie, Kim Kardashian, etc) exiting cars. 'Cindy's interested in the aesthetics of violation,' says Battista, noting the video in the back room featuring the audio from leaked sex tapes matched to pulsing monochromes.

In an adjoining space, Naama Tsabar installed Closer, a white monolith with an embedded microphone and cello that is played by reaching one's arm inside of the wall cavity, and the black and bordeaux variations of her Robert Morris-esque felt/carbon paintings, which are fitted with guitar strings (and hooked to amps). In a fitful performance, Tsabar played them alongside two performers to a rapt standing room only crowd at the gallery's packed opening on Saturday night. Battista notes, 'I love these because she is breaking forms.'
Another artist breaking forms is Susan Hefuna, whose handmade cast bronze grids and ink-stained wooden North African Mashrabiya screens tease out the handicraft within the show. Meanwhile, Alex McQuilkin's canvases recreate the aspirational motifs of Ralph Lauren and Laura Ashley wallpapers and linens in her own muted palette while inserting Gordon Matta Clark-like visual cuts to disrupt the floral splendour via grid structures. And Carmen Argote's Folding Structures feature hand-pieced Perspex plans (based on the unrealised drawings of her architecture student father) that are adorned with meticulously painted muslin fabrics that reference yards, pools and sunshine.

'This show wasn't designed to be our first show in the new space,' says gallery director Seth Curcio, who originally envisioned the survey in Nazarian's still-open Venice gallery. 'But it just became more relevant than ever to have a show of all female voices who are actively subverting, pushing against and embracing this language they've been excluded from and this is a perfect moment to create a show that's not only connected to the history of art but also the world we live in.'
INFORMATION
'Escape Attempts' is on view until 8 April. For more information, visit the Shulamit Nazarian website (opens in new tab)
ADDRESS
Shulamit Nazarian
616 N La Brea Avenue
Los Angeles CA 90036
VIEW GOOGLE MAPS (opens in new tab)