The wit and whimsy of Serban Ionescu's 'objects of dormant utility'
The vibrant works of Romanian-born Serban Ionescu cut across the border lines between design and art, as featured in the April 2021 issue of Wallpaper*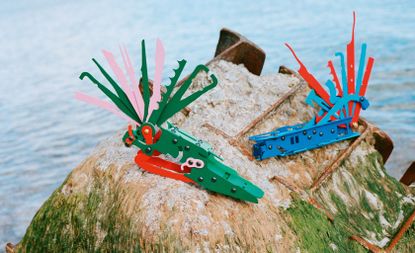 (Image credit: John Watts, Joe Kramm, Sara Fox)
Inspired by a summer job as a model maker at an architectural firm, Serban Ionescu went on to study architecture at Pratt Institute, where he thrived creatively and discovered a fondness for the work of Lebbeus Woods and John Hejduk. 'But the negative side of architecture school is that it builds up this amazing kind of naivety that you're going to change the world,' he reflects. Graduating in 2007, he was soon disheartened by the difficulty of making a dent in the profession, and set his sights on being an artist instead.

Growing up in his native Romania, Ionescu could draw before he learned to speak (between the ages of three and five, he drew exclusively in aerial view, taking after his engineer parents who taught him about plan, elevation and section). Drawing became his way of unlearning the lessons of architectural school. He drew and painted and sculpted, bringing the three together in his 2016 Pinocchio Chair – pieces of plywood, painted baby blue, bubblegum pink and bright red, and with the likeness of the puppet carved into the seatback.
It established a cartoonish style that has characterised Ionescu's work since, a combination of design and art that makes him one to watch on the creative scene.

Today, the now Brooklyn-based Ionescu often works with sheets of powder-coated steel, and his output stretches across scales: the largest, Chapel for an Apple (2020), is a 20ft-tall folly nestled in a field in Hudson in upstate New York. Its outline evokes both a prototypical chapel and the area's industrial heritage; there's a viewing platform, an apple-shaped entrance and Lego-like colours for a dash of whimsy. Among the smallest are his ICES (In Case of Emergency Sculptures), with a rough resemblance to Swiss army knives. These are 'objects of dormant utility', says Ionescu, pointing to the uncertainties of the pandemic era and the evolving definitions of design and art.
His rising stature is reflected by his inclusion in the group show 'Objects: USA 2020', currently on at New York's R & Company. One of 50 contemporary 'object makers' to participate, Ionescu created a new piece, Aza, 'furniture, architecture and sculpture crashing into one'. The gallery's principal, Zesty Meyers, has worked with Ionescu for two years. 'Every time you look at his work, you find new interesting details,' Meyers enthuses. 'The mix of colour, architecture and abstract forms create relationships in a way that I have never seen before.'

Meanwhile, Ionescu's first solo exhibition in Europe is about to open at Antwerp's Everyday Gallery. Titled 'In Order of Appearance', it features smaller-scale pieces that show 'how a cast of characters becomes things, becomes furniture'. Stuck in Toronto for ten months during the pandemic, Ionescu set out to create at least one drawing a day and has since accumulated more than 500. What began as a personal project is now poised to occupy gallery walls, offering an opportunity for viewers to glimpse into his fertile imagination. 'It's going to show a bit more of how things come together,' he says.
INFORMATION
This article originally featured in the April 2021 issue of Wallpaper* (W*264), available for free download
'In Order of Appearance', 20 March – 27 April 2021, Everyday Gallery, Jos Smolderenstraat 18, Antwerp. everydaygallery.art
'Objects: USA 2020', until 31 July, R & Company, 64 White Street, New York. r-and-company.com
serbanionescu.com
TF has been editor of Wallpaper* since December 2020. He is responsible for our monthly print magazine, planning, commissioning, editing and writing long-lead content across all our content pillars. He also plays a leading role in multi-channel editorial franchises, such as our annual Design Awards, Guest Editor takeovers and Next Generation series. He aims to create world-class, visually-driven content while championing diversity, international representation and social impact. TF joined Wallpaper* as an intern in January 2013, and served as its commissioning editor from 2017-20, winning a 30 under 30 New Talent Award from the Professional Publishers' Association. Born and raised in Hong Kong, he holds an undergraduate degree in history from Princeton University.
With contributions from