Secret 7" returns with vinyl cover art designed by creative heavyweights, and it's all up for grabs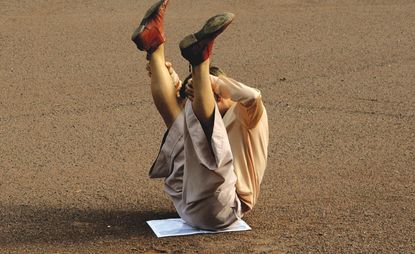 (Image credit: TBC)
Anish Kapoor may command multi-million figures at the auction houses but one lucky individual will walk away with a unique artwork by the Turner Prize winner for just £50 this month – and it's all for a good cause. The latest edition of Secret 7" in London sees a top billing of creative forces – from artists, to illustrators, graphic designers, musicians and filmmakers – create one-off record sleeves that will be sold at the close of exhibition on 24 June, with profits going to mental health charity Mind.

The concept is simple enough: Secret 7" chooses an iconic track from seven artists and presses each one 100 times to 7" vinyl. Contributors create a unique artwork for the track of their choice, with all 700 records exhibited at The Jetty at Greenwich Peninsula. The twist? Buyers won't know the identity of their sleeve designer until after they've purchased their record.
Founded by Kevin King and Jordan Stokes, Secret 7" has raised over £175,000 for charity since it was established in 2012. Previous contributors include Yoko Ono, Ai Weiwei, Gilbert & George, David Shrigley, Julian Opie, and Jenny Holzer. The 2018 roster includes another Turner Prize winner, Jeremy Deller; fashion designer Paul Smith; artists Jake and Dinos Chapman; The Clash bassist Paul Simonon; and set designer Es Devlin.

As for this year's tracks? It's a heady set list: I'm Not Down, by The Clash; I Saved The World Today, by Eurythmics; Lover, You Should've Come Over, by Jeff Buckley; Castles Made of Sand, by Jimi Hendrix; Help, by London Grammar; No Surface All Feeling, by Manic Street Preachers; and Damaged, by Primal Scream.

The Secret 7" exhibition coincides with a number of happenings in and around Greenwich Peninsula, including a show by illustrator and 'doodle bomber' Hattie Stewart (until 25 June), and the Greenwich and Dockands International Festival (22 June – 7 July). 'We want Greenwich Peninsula to be a test-bed for creative ideas, giving emerging artists and curators freedom to contribute to an ongoing discourse on London's eclectic cultural scene,' says Kaia Charles, Greenwich Peninsula cultural projects manager.

We caught up with Secret 7" co-founder Kevin King to find out more...

How did you choose the tracks for this year's edition?
As with previous years we wanted the line-up to be a mix of styles and time periods – it lends itself to creating a visually diverse show. This year we are working with Sony Music for the first time and challenged ourselves to make the tracks both relatable to our cause, Mind, and ones that haven't been on a 7" record before.

Who can contribute artwork to Secret 7"?
Roughly half the show is made up of people we invite from a range of disciplines. The other half come through an open submission – we had 6,000 artworks sent to us in eight weeks. Jordan (Secret 7" co-founder) and I make all the selections. He lives in Sydney, so we both do it in isolation and then combine our picks, and then refine further.

What's the strangest submission you've received?
Wigs. This year we've got our second wiggy sleeve sent to us. We've also got a sandcastle, a balloon and a whole range of totally one-off record sleeves. Every year more and more people are taking up the challenge to create their design direct to a blank sleeve rather than a digital submission.
The billing for this year includes some heavyweights – have you ever had to turn down a submission from one?
We've never had to turn a big name down before due to numbers, but we have had to decline artwork from one in a previous year as they had included the track title on their work. The rules are rules, for all to follow.

You must have some dream contributors and tracks in mind for future editions...
Martin Creed, James Turrell, Olafur Eliasson, Grayson Perry, Jenny Saville, Jesse Kanda, Anthea Hamilton, Lubaina Himid, Michel Gondry… there are plenty to keep up driving on for a few more shows. There are so many dream tracks. We tried and failed for something from The Miseducation of Lauryn Hill this year, maybe next time around.

Tell us about what visitors can expect on sale day.
A queue. A small bunch of hardcore folks will go overnight, though the majority will arrive early hours on the day itself. We reveal all our secrets that day and any that remain typically get auctioned via the charity's eBay page, which gives those who can't be in London on the day a chance to own our records.
INFORMATION
The 2018 edition of Secret 7" is on view until 24 June. For more information, visit the Secret 7" website (opens in new tab) and the Greenwich Peninsula website (opens in new tab)
ADDRESS
The Jetty at Greenwich Peninsula
London SE10 0JF
VIEW GOOGLE MAPS (opens in new tab)