Flash back: artist Scott King harks back to British holiday camps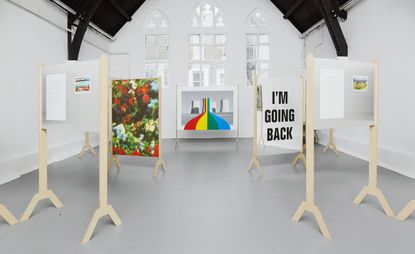 (Image credit: TBC)
'I have a long-running fascination with Butlin's – well, with Butlin's from the 1970s really,' Scott King recalls. The artist has turned Studio Voltaire in Clapham, London, into a microcosm of bygone Britain based on the chain of holiday camps that was founded in 1936 to provide affordable family holidays for British families.

'I first went to Filey Butlin's in 1977 as a seven-year-old with my family, and my memories of it are still so vivid,' King told Wallpaper*. 'The very particular smell of a certain kind of bleach or the smell of candy floss mixed with diesel fumes can transport me right back there.' The Filey site was bulldozed in 1983 – forced, like many of the Butlin's locations, to close that decade, unable to compete with new package deal operators attracting more families abroad. Only three of the original sites now remain open.

But it's not all egg-and-spoon races and fairgrounds at Saxnot – King's proposed recreation of a resort. Part art installation, part trade fair, it comprises posters, menu plans, site maps, brochures and products, a quixotic vision for a new utopian leisure complex for Brits. Under the sunny surface of family-oriented fun is an uncomfortable ideal of right-wing nationalism.
Feeling the way his own memories of Butlin's became rosier the more years passed, King says, he began to see a connection to 'the nationalist vision of an England past – this imaginary Britain peddled by pro-Brexit politicians'.

From Thatcherism to tourism to Brexit, King says 'it is the nostalgia aspect that fascinates me the most', citing Svetlana Boym's The Future of Nostalgia as a key influence for the exhibition. 'Boym uses this great phrase to describe contemporary nostalgia: "to be homesick and to be sick of home",' says King. 'I think says a lot about how nostalgia can be used as a weapon against people; this constant drive to "make things how they used to be", which of course is a highly sanitised and simplified reimagining of something that never really existed.'
Reminding us of 'the best times of our lives', Saxnot is a model for an idyllic society where the number priority is fun. But this is exactly how we ended up with Brexit, too. 'There were no plans, nobody had actually bothered to think about how it might work, and Saxnot is very similar: a fantasy fuelled by nostalgia,' King explains. Saxnot imagines a right-wing conglomerate pushing its values 'systematically enforced by "joining in the fun" ... and this becomes their template to redesign Britain'.

Though rooted in a personal, and very British sentimentality, King says there are parallels that connect Saxnot to what's happening elsewhere. 'I had to explain the show to a group of people from Belgium, who'd never heard of Butlin's of course, and they got it completely – drawing parallels with the rise of nationalism across Europe and Trump's presidency in the US.'
INFORMATION
'Welcome to Saxnot' is on view until 11 February. For more information, visit the Studio Voltaire website (opens in new tab)
ADDRESS
Studio Voltaire
1A Nelson's Row
London SW4 7JR
VIEW GOOGLE MAPS (opens in new tab)
Charlotte Jansen is a journalist and the author of two books on photography, Girl on Girl (2017) and Photography Now (2021). She is commissioning editor at Elephant magazine and has written on contemporary art and culture for The Guardian, the Financial Times, ELLE, the British Journal of Photography, Frieze and Artsy. Jansen is also presenter of Dior Talks podcast series, The Female Gaze.