Puzzle master: Sarah Morris plays mind games in her latest show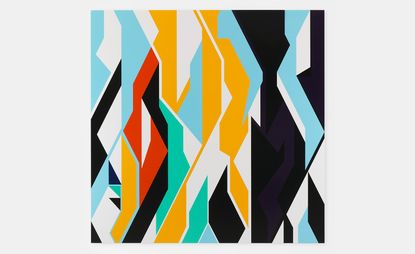 (Image credit: TBC)
New York artist Sarah Morris has come to reinvent hard-edge abstraction, debunking the myth that men are better painters than women (a slur from George Baselitz in 2013). Her painting style is rooted in the 1960s, but her compositions are infused with visual puzzles.

Morris opens her latest solo show today at Petzel Gallery in New York. 'Finite and Infinite Games' is inspired by a 2013 book by James P Carse, which argues there are two kinds of games in life, finite games played to win and infinite games played to play. This new exhibition explores the art of the mind game, as Morris artist shows 11 new paintings and five drawings that deconstruct her grids into vertical stripes coded with cryptic clues.
The artist has previously painted abstract portraits of Rio de Janeiro, Beijing and New York City, but here she paints Abu Dhabi, capital city of the United Arab Emirates. Her painting Al Wathba is named after a large wetland reserve just 45 minutes outside of Abu Dhabi, which is painted in corporate blues and greys. One could read it as a 'drone-eye view' of the marshland, where drones have been monitoring flamingos since 2014. Meanwhile, Emirates Palace is named after the luxurious five-star hotel and is painted in hues of peach, orange and pumpkin.

Morris, who is also working on a new film for the Guggenheim Abu Dhabi, has changed her grids over the past decade. While before they were dense, they've now become minimal, airy pieces that move like skyscrapers seen through fabric in the wind. Especially for a complex city like Abu Dhabi, and with all its controversy surrounding women's rights, many women see the city behind a similar veil.
INFORMATION
'Finite and Infinite Games' is on view until 8 April. For more information, visit the Petzel Gallery website
ADDRESS
Petzel Gallery
456 W 18th Street
New York, NY 10011