Seasons change: new works by Ryan McGinley show a fresh direction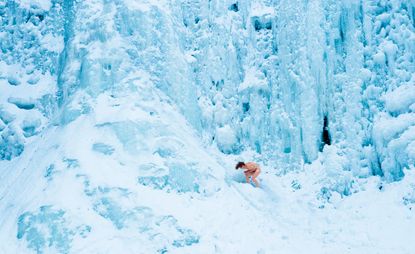 (Image credit: Ryan McGinley)
It's easy to forget that Ryan McGinley began taking photographs a decade ago, before the mass proliferation of image making and sharing in the wake of social media platforms. McGinley's photographic voice, informed by memories of his older siblings and their friends, and the death of his older brother when McGinley was just 17, has been emulated by many young photographers in recent years, revered for their atmosphere of nostalgia, caprice and transience – and their absence of cynicism. The New York-based artist's preternatural nudes are visions of an American utopia of youth.

McGinley's concurrent exhibitions at Team (gallery, inc.) – Fall, in Los Angeles and Winter, in New York – present a shift in the artist's practice, moving away from his iconic Road Trip imagery. The nude has always been central in McGinley's oeuvre, but in these new images, his interest in the body as pure form and movement is more salient than previously. Inspired by the romantic style of the Hudson River painters in the Northwest, the lush archetypal seasonal settings scintillate through McGinley's lens.

In large-scale works such as Sugar, Paul (Frederic) and Deep Well, (all editions of three, 2015, and on show in Los Angeles) the juxtaposition between the rich fall colors and the almost abstracted body - both temporary and transitional in their photographed state – conjures that fleeting feeling that typifies McGinley's work, but here it is offered with greater confidence, without the immediate invitation to narrate the image that earlier works often elicit.

Surprisingly, this is McGinley's first solo presentation in Los Angeles, at the Team gallery's bungalow space in Venice – on view until 20 December.
INFORMATION
Winter is now on view until 20 December at Team gallery in New York and Fall is on view until 20 December in Los Angeles

Photography courtesy of the artist and Team gallery
Charlotte Jansen is a journalist and the author of two books on photography, Girl on Girl (2017) and Photography Now (2021). She is commissioning editor at Elephant magazine and has written on contemporary art and culture for The Guardian, the Financial Times, ELLE, the British Journal of Photography, Frieze and Artsy. Jansen is also presenter of Dior Talks podcast series, The Female Gaze.