Rolex Arts Initiative Protégés: meet the mentees
From architecture to theatre, literature to dance, this year's Rolex Arts Initiative roll call is as diverse as ever. Seven fledgling creatives embark on the journey of a lifetime with a highly acclaimed mentor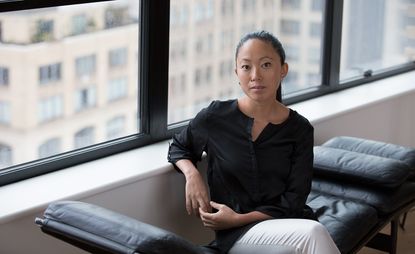 (Image credit: TBC)
Nominated for her outstanding performance and compositional talent, Pauchi Sasaki is a violinist, composer and performance artist, whose work ranges across different music styles and disciplines. She graduated from the Electronic Music and Recording Media programme at Mills College in California, and composes music for video, film, theatre, dance, and site-specific projects and installations.

W*: Why did you end up being a musician rather than expressing yourself in a different field?
PS: Music suits me very well for many different reasons. It's very free, very poetic but also very structured. I've always tended to be introspective, and music fits well with that as well. As an artist I feel I can express myself most directly through music. I started learning the flute at the same time as I started learning to talk, and I began playing the violin when I was five, so music has always been part of my life.

How did your speaker dress come about?
I'm very interested in embodying sound, in contrast to the way as a performer that you're often hiding behind an instrument. After a very big, intense performance at the opera house in Lima in 2012, I kind of came to afterwards and wondered, 'What on earth happened there?' What you do exists only while you're doing it, but as soon as the performance is over it's gone, and you have to learn to change the chip in your head and be someone other than the person you were on the stage. For some time after that, I had a real hunger for objects – because as a performer, once the performance is over you have nothing but the experience to show for it. That's when I conceived the idea for my musical dress.

How are you working with Philip Glass?
I've already been touring with him, travelling to Japan for a performance with Patti Smith, and to Bucharest and Paris with the Kronos Quartet, who were playing Philip Glass' music for the 1931 film of Dracula, which is one of my favourite pieces.

pauchi.com (opens in new tab)
---
Simon Kretz is a Swiss architect and theorist of urbanism, who took his MA in architecture at the Swiss Federal Institute of Technology. He co-founded his first practice in 2010, and in 2014 became a founding partner of Christian Salewski & Simon Kretz Architekten. He has worked for several international firms, including OMA Rotterdam, and has been senior lecturer for Urban Design at ETH Zurich since 2013.

W*: What drew you to architecture?
SK: I was always very polyvalent and interested in a lot of different things, from philosophy and mathematics to communication, art and drawing, and by my last year at college I'd realised that architecture was one of the few disciplines that combined all these things and linked them together – and that really attracted me.

What insights have you gained so far from your mentor?
It's been fascinating to visit David Chipperfield and see his studio. I've seen quite a few big practices now, and it's rare to find one that is so well organised, and where the running of the practice is so carefully thought through. I'm going to be exploring ideas of urbanism with him, thinking about how urban projects could be approached in new ways.

Photograpy: Tina Ruisinger. salewski-kretz.ch (opens in new tab)
Londiwe Khoza was born in Soweto, and became a soloist in the Cape Dance Company while still studying at the Cape Academy of Performing Arts. She has won plaudits for her outstanding talent in both contemporary and neoclassical dance, and has recently joined the Batsheva Dance Company in Tel Aviv as an apprentice dancer under the direction of her mentor, Ohad Naharin.

W*: Why did you end up becoming a dancer?
LK: I saw Swan Lake when I was about five and thought: I want to be a ballerina. I was one of those annoying little girls who always wanted to be in a tutu. I started training the same year, then carried on from there – my training was mostly in classical ballet. It's the physicality of dance that really appeals to me: I'd hate to be sitting at a desk all day typing. Dance is physical, but it makes many other demands, mental and emotional.

What was it like growing up as a dancer in Cape Town?
A lot of South Africans have to move abroad to gain recognition and have success; so much of the country's history has to do with race, and that's still there, even if these days it's covered up with pretty flowers.

Dance is a very complicated art form, but in my experience the complications usually come from the people who book the dancers, not the dancers themselves. But more young people are starting to create their own work there now, like a play I wrote with a friend, and that's a promising sign.

How is it working with Ohad Naharin?
Where I'm at I want to learn from the best people in the world. Ohad is my mentor, but all his dancers are his protégés. Ultimately I'd like to do more choreography – but to be a great choreographer first you have to be a great dancer. A really good leader is someone who knows how to follow.

batsheva.co.il (opens in new tab)
The self-trained film director Chaitanya Tamhane sprang to fame at the 2014 Venice Film Festival with his debut feature film, Court, which was awarded Best Film in the Horizon category and has since won more than 30 further awards worldwide. Court was also the official Indian entry for the 2016 Best Foreign Film Oscar. Tamhane started making films after graduating in English literature from Mithibai College, Mumbai, and also writes and directs his own plays. In 2014 The Hollywood Reporter singled him out as one of the world's most promising film-makers under 30.

W*: How did you end up as a film-maker?
CT: I grew up wanting to be an actor, and I got involved in the theatre in Mumbai. But by the time I was around 17 or 18 I'd begun to realise that acting was probably not for me. By then, though, I'd started writing stories and plays, and around 2005 I saw City of God [the Brazilian film set in the favelas of Rio de Janeiro], which suddenly opened my eyes to world cinema. Up till then I'd only ever seen home-grown Bollywood films, but world movies made me realise that the Bollywood films were packed with quotes from other films.

I guess my lucky break was meeting Vivek Gomber, who played the lead role in my play, Grey Elephants in Denmark, and went on to produce and take a major role in Court too. He had this blind faith in me, which gave me the chance to work on Court. [In June 2011 Gomber told Tahame he would pay him 15,000 rupees a month to develop the script.] It was a long process, and the film took two or three years to produce, but he stuck with me all the way.

What are you working on with Alfonso Cuarón?
I'm working on some ideas but I'd rather not talk about them just yet – it's very early days. But next I'm going to Mexico to watch Alfonso at work on his latest film; I'll probably spend a month there, and I might work on the post-production of his film as well.
Born and brought up in Ho Chi Minh City, Thao-Nguyen Phan studied at the city's University of Fine Arts and graduated from Singapore's Lasalle College of the Arts in 2009, before doing her MFA in painting and drawing at the School of the Art Institute of Chicago. Returning to Vietnam, she set up Art Labor, a cross-disciplinary collective with artist Truong Cong Tung and curator Arlette Quynh-Anh Tran, which develops art projects that involve the local community. Supported by the Ministry of Foreign Affairs of Denmark in Vietnam, she will hold her first solo show in 2017.

W*: How did you get started?
TNP: My father loves literature, and I was always interested in storytelling, but Vietnam lacks the infrastructure to support contemporary art, so I studied in Singapore to become a painting conservator. It wasn't until I went to Chicago that my eyes were really opened to performance art. I'm really inspired by artists who have trained in a specific field but who then apply that training to an entirely different discipline.

Have you already started working with Joan Jonas?
Yes – I met her first during her solo show in Spain earlier this year, then spent three weeks with her, which included performing in one of her shows.

Are there challenges to being a contemporary artist in Vietnam?
Yes and no. It's possible, and it's easy to live there cheaply, and it doesn't cost much to get things made. But there isn't any official support for contemporary art, so performances and exhibitions have to be on an informal basis. It's a very small art scene, and there aren't many of us, but we do have plenty of opportunities to travel abroad. I think there'll be some very interesting developments in the next ten years or so.

thaonguyenphan.com (opens in new tab)
Julián Fuks is a writer, critic and translator. The author of five novels since graduating from the Universidade de São Paolo, he has been nominated for Brazil's top literary prizes. His latest novel, A resisténcia (Resistance), has been praised for its lyricism and linguistic precision.

W*: What made you become a writer?
JF: I was a pretty normal child – I wasn't precocious, but for one reason or another writing gradually became more important to me than other things. Writing initially helped me to understand myself, but after that it has helped me understand others.

How did you first get your work published?
When I was writing about myself, I started writing short stories in a very amateur way, and after a while I realised that I might have the makings of a book. At the age of 22, while I was at university, I won a writing prize with it, which gave me the confidence to try sending it to a publisher. Luckily they chose to publish it, and slowly my writing became more professional. As a student I'd always intended to be a journalist, but eventually I decided to dedicate myself to creative writing instead.

Can you describe your approach to writing in a few words?
A lot of my work addresses the form of the novel. I'm interested in whether we can – or whether we can't – go back to writing in a narrative form, given all the experiments that took place during the 20th century.

What about the literary scene in Brazil?
I think that Brazilian writing was great in the 1960s and 1970s, but then it went through a very tough period in the 1980s and 1990s where it was hard to get anything good published; now it's getting better again, but the market for literary fiction in Brazil is still a small one – considering the size of the country there aren't really that many readers for work like mine.
Noted for his experimental 'neo-technological' dramas that combine both theatrical and audio-visual elements, Matías Umpierrez is the founder and director of the Festival Internacional de Dramaturgia Europea + América, and has developed innovative programmes at the Rector Ricardo Rojas Cultural Center at the University of Buenos Aires.

W* What first attracted you to the theatre?
MU: I've always been very interdisciplinary. From an early age I studied sculpture, drama and art, all at the same time. My father makes moulds for ceramics, and I spent weekends at his factory, painting and making sculptures out of clay. I always felt as if I was in the middle somehow, maybe because my father is an immigrant from Uruguay, so I always felt as if I was between Argentina and Uruguay, and the work I do feels the same way.

I started making plays in Buenos Aires because it's a city where a lot of people want to act, so there are plenty of willing participants, and it's also a cheap art form – you don't need much to mount a play. I started filming my work right from the start, and that soon became a part of the work itself.

Can you describe your work?
My work reflects and reflects on the theatre, though it doesn't look like theatre. I'm inspired by the oral tradition, the way that theatre began, before words began to be written down – that's the first sparkle of theatre. I'm increasingly doing site-specific work as well.

I spend a lot of time trying to explain what I do, because my work doesn't fit into traditional classifications. Newspapers and magazines have sections for theatre, art, TV and so on, but where do I fit? My work doesn't really fit in any of them.

What are you doing with Robert Lepage?
So far I've been observing his work. He's a perfect fit for me, because he's a master of performing, art and technology. My work is often seen as being about innovation, but I really think of technology as having an organic relationship to our lives. I don't see it as this futuristic thing, but just part of our everyday lives.

teatrosolo.com (opens in new tab)