Abstract artist Robert Kelly layers postcards, prints and posters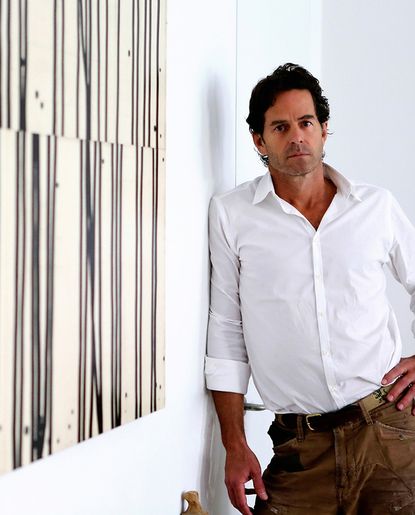 (Image credit: Costas Picadas)
'Travels always insist on the unfamiliar against the familiar, the foreign against that which is known and comfortable,' says American abstract artist Robert Kelly, on the inspiration behind his paintings on view at Sophia Contemporary Gallery, London — his first solo exhibition in the UK.

The New York-based artist's love of travel is clear in the carefully collaged layers of postcards, prints, letters and posters he has collected and assembled on canvas, in a painstaking process that can take up to several weeks to complete. He then paints briskly and confidently with oil using a trowel on top of this compilation of ephemera. The subtle effect of this technique suggests the traces of memory embedded in a surface – as in a palimpsest, or even in the skin.

What appear at first to be exercises in geometric abstraction are then disrupted by the narrative of what lies beneath. 'The dislocation and freshness of new contours in travel provoke us to find stability within sets of new relations. These paintings continually apply this will towards "terra firma" within the ambiguities of abstraction,' Kelly explains.
Kelly's last solo exhibition was in Rio de Janeiro, where the Neo-Concrete art movement of the early 1960's 'struck me to the core sympathetically', and informs in part the grand yet sparse monochrome paintings of Black on Bone. Here, Kelly says he confronts various visual questions he has been grappling with for more than a decade, such as 'the constant intrusion of the decorative' – attempting to resolve them through the 'cipher of Constructivism, or some deeply set architectonic logic'.

His work has often been considered in relation to Russian Constructivism and the Dutch De Stijl movement, and at its booth at Frieze London this week Sophia Contemporary will materialise these connections, showing works from Kelly's Nocturne series alongside rare works by Malevich and Mondrian. 'I never tire of looking at Mondrian and his will toward formal resoluteness, yet equally am moved by the constant humanism and mythic play in Malevich's work along with what seems to be such an organic connection between its iconic imagery and the cultural aspirations to transcend boundaries.'
INFORMATION
'Robert Kelly: Black on Bone – Selected Works' is on view until 28 October 2016. For more information, visit the Sophia Contemporary Gallery website (opens in new tab)
ADDRESS
11 Grosvenor St
London W1K 4QB
VIEW GOOGLE MAPS (opens in new tab)
Charlotte Jansen is a journalist and the author of two books on photography, Girl on Girl (2017) and Photography Now (2021). She is commissioning editor at Elephant magazine and has written on contemporary art and culture for The Guardian, the Financial Times, ELLE, the British Journal of Photography, Frieze and Artsy. Jansen is also presenter of Dior Talks podcast series, The Female Gaze.