Richard Caldicott exhibition, London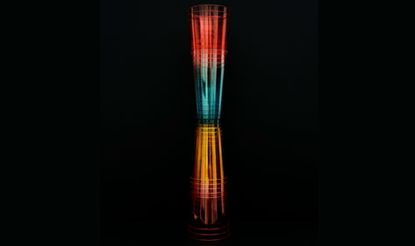 (Image credit: Richard Caldicott)
Richard Caldicott is an artist and a photographer. His work is photographic, yet it is not figurative. By using the camera to record collages and constructions, Caldicott has carved himself a unique aesthetic niche that manages to reference iconic modernism without reverting to familiar forms.
For his latest series, Untitled 2008, which opens at London's Hamiltons gallery on the 21st January, Caldicott places unusual objects at the centre of the frame. The building block of these large-scale photographic abstracts is the disposable cup: plastic, Styrofoam, clear and transparent.
See more images from Calidcott's latest show and past work
It's a route Caldicott has explored before, most notably with Tupperware containers for a series of large scale semi-abstract still lives at the end of the 1990s. After that, Caldicott moved towards collage, taking source material derived from various modernist tropes and situations, slicing, dicing and rearranging until a strange new geometry emerged from the mix.
click here to read a Q&A with the artist and his galerist Tim Jefferies of Hamiltons
Both the Loop and Script images of 2005 and 2006 respectively (see the gallery above) used saturated, complex method of image-making.
The return to objects was a very self-conscious new direction. Whether stacked vertically in a pattern that appears to pay unconscious homage to Brancusi or Noguchi, while also nodding at the Pop reappropriation of everyday objects into the context of the gallery, or racked together to reveal shifting shades of translucence, filtering the light source, Caldicott has transformed one of the most banal everyday things into totems of beauty.
The eye is drawn to the tiny imperfections in a row of Styrofoam cups, or the almost skeletal forms of clear cups, glowing as if they were backlit. The meticulous phrasing and constructions references the minimalism of Donald Judd and Dan Flavin, while simultaneously rejecting their intensely craft-led approach in favour of elevating the mundane to greatness.
ADDRESS
Richard Caldicott, New Work
Hamiltons
13 Carlos Place
London W1k 2EU
Harriet Lloyd-Smith is the Arts Editor of Wallpaper*, responsible for the art pages across digital and print, including profiles, exhibition reviews, and contemporary art collaborations. She started at Wallpaper* in 2017 and has written for leading contemporary art publications, auction houses and arts charities, and lectured on review writing and art journalism. When she's not writing about art, she's making her own.