Riga's Biennial of Contemporary Art blooms amongst ruin
The second edition of RIBOCA, first conceived as a response to apocalyptic narratives and now deftly adapted to the age of Covid-19, carries themes that feel more potent than ever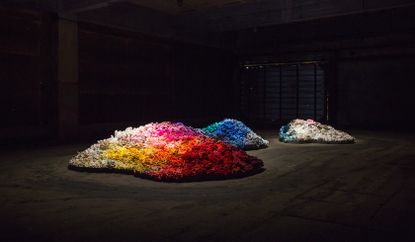 (Image credit: TBC)
Wallpaper* Newsletter
Receive our daily digest of inspiration, escapism and design stories from around the world direct to your inbox
Thank you for signing up to Wallpaper. You will receive a verification email shortly.
There was a problem. Please refresh the page and try again.
A ghost story, set in an industrial ruin. A fallen landscape, caught between abandonment and regeneration. Where centuries of upheaval have forged but a wasteland of commercial dreams – decommissioned and decaying from quayside to smokestack.

This forms the dystopian setting for RIBOCA2: the latest occupant of Riga's historic Andrejsala port, on a peninsula next to the city's Art Nouveau heart. Here, toxic meadows now bloom with sage, cornflower and camomile, and unwieldy warehouses bristle with an international art community.

'And suddenly it all blossoms', the exhibition title rings out. A cry of celebration and optimism – just not in time for spring, as originally planned. And whilst the 'it' is undefined, curator Rebecca Lamarche-Vadel's vision for RIBOCA's second edition is clear: steering visitors on an 'odyssey' of 'enchantment' in the face of 'coming cataclysm'. An exhibition de catastrophe, taking in its stride both the turbulence of the setting and the times. Opting to leave traces of its evolution – noting absent and altered artworks, celebrating silence as much as noise. Part biennial, part memorial.
The first of these adaptations arises overhead in a vast repurposed hanger: Ugo Rondinone's LIFE TIME. Not the envisioned neon, but a rainbow motto 'painted with love by artists of Riga', due to the impossibility of shipping the original. Then, through a hole in the wall, a whole series of physical impossibilities, this time overcome by Bridget Polk, who is known for gravity-defying rock installations. Her balanced stacks of industrial rubble are beacons of stoicism for the age: guiding us through rough waters, just as ancient cairns served voyagers before the advent of lighthouses or trail markers.

Equally poised, but with historical satire, Lithuanian Anastasia Sosunova's Habitaball sprawls beyond an austere pair of wrought-iron gates. Her 'readymade' site – a former paintball field, replicating a mock village – is newly cast as the archaeological vestige of a fictional community. Wry interventions make a mockery of this stage for play-warfare, whilst decrying the fallibility of historical record. 'No one knows what happened here!' Sosunova regales, 'so let's push fiction to the very end'.
Folklore and fantasy ripple through RIBOBCA2's parcours of 50-odd participants, 85% with new commissions. Significant, too, is the presence of mathematicians, textile designers, choreographers and performance artists. Lithuanian-Latvian duo IevaKrish hails from the fields of dance and scenography, thrashing a path back to the politics of ethnography with a hanging mobile installation inspired by the puzuris, a traditional Baltic artefact entrenched in domestic superstition. Updated from straw to brass, spliced in two and pirouetting to a discordant soundscape, Polemic of Two Metrics heralds the possibility of harmonious coexistence.

Straw into metal, then snow into straw: the fate of Augustus Serapinas' Mudmen. Conceived (and previously exhibited) as simulacra snowmen, Serapinas was forced to graft his lumpy figures from Lithuanian mud and straw, owing to an unseasonably warm winter. Far from antagonising scarecrows, Mudmen calls for friendly cooperation with nature, the snow-day equivalent of an Irish Child of Prague, warding off rain for a wedding.
Another plea to the weather gods might have been heard from Tomás Saraceno, at the intended launch of Aerocene: Berlin to Riga, 2020 – an ambitious aerosolar sculpture designed to carry itself 843km on the wind to RIBOCA2. But the project fell victim to pandemic immobility, leaving in its place The Aerocene Backpack: an open-source flight starter kit, attesting to the artist's poetic mission 'to become the wind'. Undeterred by gusts or cloud-cover, we commend his bid for a new epoch of the skies.

All around, the elements whistle and chime. There is earth and fire, with Valdis Celms' kinetic geometry and Katrin Hornek's clay geology. Swirling eddies and submarine-scapes, in the coral-esque crochet of Daina Taimina, and Cyprien Gaillard's film Ocean II Ocean, a delve into the humus of life (riffing on 'dust to dust'), echoing Rondinone's opening sentiment. Still underwater, Hicham Berrada's film Presage – SiO2 fixes on a fizzing tank of prehistoric matter, as if engulfed in its own weather system or even cosmos. Then, at last, we emerge from water into pasture – with Eva L'Hoest's The Inmost Cell, probing tragic fever-induced mirages at sea. Part 3D scan, part image reconstruction, the work at once unsettles and bewitches, eerie with the tune of a female Latvian choir. 'The world is dissolving', the subtitles read. 'The fields have scaled and memories mineralised'.
Skillfully for a biennial of this scale, RIBOCA2 is not void of nuance, intimacy or feeling. From Finnish collective Honkasalo-Niemi-Virtanen comes Atomic: a cinematic delve into the story of atomic trinite, accompanied by the quixotic trinite jewel itself. Equally luminous, with human fragility: Alex Baczynski-Jenkins's ongoing film Faggots, Friends, evoking friendship amidst hostility. 'A queer layering of time... through which intimate relations can emerge,' describes the artist. And exuding further resilience, Berenice Olmedo's installation of animated child orthoses; tirelessly striving to stand, in a rhythmic denunciation of social regulation and tribute to singularity.

Often, the more a word is used, the less meaning it retains; the more an image seen, the less potent its subject. Yet the reshaping and reworking of RIBOCA2 has far from rendered its project ruinous. The spectres of Andrejsala may still haunt their territory, but this is now a land of the living – blossoming in the present and fertile for the future. 'A city – every city is the eradication, even the ruin, of the landscape from which it rose. In its fall, that original landscape sometimes triumphs,' the essayist Rebecca Solnit once wrote. And triumph RIBOCA2 has. Perhaps most meaningfully of all, in the acceptance and ensuing 're-enchantment' of its own fragility.
INFORMATION
RIBOCA2 runs until 13 September. rigabiennial.com
ADDRESS
Andrejostas iela 4
Riga LV-1045
Latvia
Receive our daily digest of inspiration, escapism and design stories from around the world direct to your inbox