California calling: Raymond Pettibon embraces sex, sports and surfing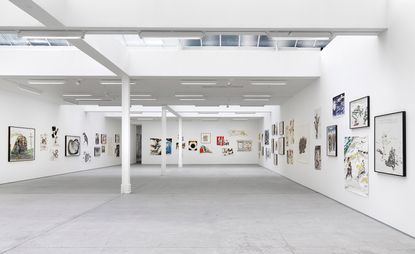 (Image credit: Courtesy of Sadie Coles HQ, London)
There is no other artist who dismantles – and subsequently pieces together – modern America quite like Raymond Pettibon. Best known for his comic book-style drawings overlaid with charged text, the New York-based artist revels in subverting tropes, from trains and film-noir, to surfing and baseball players.

These themes once again come to the fore in Pettibon's sixth exhibition at Sadie Coles in London, where the gallery's pristine space is teeming with an array of new drawings that bring us into Pettibon's dark and deeply twisted world. The exhibition's title, 'Bakersfield to Barstow to Cucamonga to Hollywooyd', suggests a fictional journey through California, however, there is always something more sinister at play here.

Born in 1957 in Tuscon, Arizona and raised in California, Pettibon graduated with an economics degree before establishing himself in the Los Angeles punk scene, creating album and merchandise artwork for the likes of Black Flag (founded by his brother, while Pettibon briefly dabbled as bassist) and Sonic Youth. His counterculture iconography remains central to his artistic practice today

Several of the works in the London exhibition explore the notion of encounters – 'sexual liaisons, sports-field standoffs' – underpinned with sentiments of violence, despair and dissatisfaction. In No Title (He is looking…), Pettibon's brushstrokes explode on the large canvas with the same frenzy as the ocean he is depicting – a lone surfer looks to be engulfed.

He has said, 'All these closed fields… hard-edged and soft-edged, and flat. What does it measure, what does it ultimately say? It cuts out from the world the complexity that exists, which I deal with in every fucking drawing I make.' Pettibon's work merges painting, drawing, collage, cartoons and poetry with intuitive fluidity – where one genre ends and the next begins is near impossible to pinpoint.

Pettibon's penchant for the macabre and anarchic leaves viewers unsettled, but ultimately, rewarded. One work, an ink portrait of man with his head tilted back and eyes clenched shut, proclaims: 'A light bulb went off in his head: the apocalypse.' However coincidental, it's a poignant declaration that could not be timelier or more fitting for the current atmosphere in London.
INFORMATION
'Bakersfield to Barstow to Cucamonga to Hollywooyd' runs until 20 August. For more information, visit the Sadies Cole website (opens in new tab)
ADDRESS
62 Kingly St
London W1B 5QN
VIEW GOOGLE MAPS (opens in new tab)