Peter Marlow's 'The English Cathedral' at The Wapping Project Bankside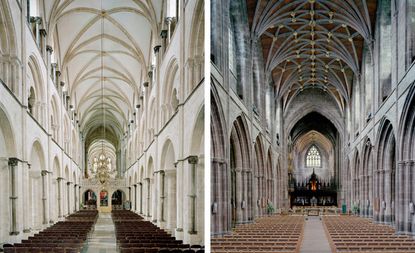 (Image credit: Peter Marlow Courtesy The Wapping Project Bankside)
Wallpaper* Newsletter
Receive our daily digest of inspiration, escapism and design stories from around the world direct to your inbox
Thank you for signing up to Wallpaper. You will receive a verification email shortly.
There was a problem. Please refresh the page and try again.
From China's recent wave of development to the relentless surge of architectural wonders springing up across the world, the modern skyline is changing at a blindingly fast pace. Wallpaper*, perhaps more than most, appreciates this fixation on the future and yet, sometimes even we need to be reminded that delving into our past can be an equally fulfilling endeavour.

A new exhibition by Magnum photographer Peter Marlow - opening today at London's The Wapping Project Bankside - is set to accomplish just that. For the first time since Marlow's monograph 'The Cathedrals of England' was published, the complete series of all forty-two Anglican cathedrals are being shown together.

The project began in 2007, when Marlow won a commission for the Royal Mail to photograph six British cathedrals (Litchfield, Belfast, Gloucester, St David's, Westminster, St Magnus in Orkney), to be issued as a set of commemorative stamps. Once the commission was complete however, he was moved to undertake a pilgrimage of his own. 'I think that I've always been fascinated by cathedrals, not on the spiritual side, but as incredible icons of architecture,' said Marlow. 'It has always caught my imagination to be in those places and see the history unfold.'

Marlow's systematic visual inventory strips back layers of history going back 600 years - from Gothic pointed arches and vaulted roofs, to Baroque's theatrical ornamentation and the starkness of Modernism. The distinctive architectural nuances of English cathedrals become even more evident when viewed together, such as their extreme length and the internal priority given to horizontal, rather than the vertical.

Marlow's ritualistic process became an element of the art itself, and he bartered fiercely with clergy to enter their sacrosanct spaces before dawn. Equipped with a large format camera, the set up was a slow and arduous routine, after which he would usually shoot between six and ten images straight down the cathedral's nave.

'The key thing is that the lights need to be turned off, which was very difficult to negotiate,' Marlow noted, with regards to how he wanted to photograph the cathedrals. So difficult in fact, it took a year and a half to convince St Paul's to even consider doing so, while Chester had one light in the crossing that could not be turned off - it had mysteriously been alight for fifteen years and no one had ever located the switch to turn it off.

Then there were other logistical challenges to contend with: at Wells, Marlow photographed the triforium gargoyles in exchange for access; in Exeter he exercised appropriately saint-like patience waiting four and a half hours for a man praying to leave; while at Peterborough there were two men shooting pigeons inside.

These days, Anglican cathedrals attract more tourists than churchgoers - though in some respects, both are arguably worshipping something greater than themselves. And while we wait with bated breath for the next 'starchitect' masterwork to be erected, it is worthwhile to remember that these religious shrines have withstood a test of fortitude (think two World Wars) far greater than any modern pinnacle might face - for centuries in fact.
ADDRESS
The Wapping Project Bankside
65a Hopton Street
London SE1 9LR
Receive our daily digest of inspiration, escapism and design stories from around the world direct to your inbox