Pandamonium at Selfridges, London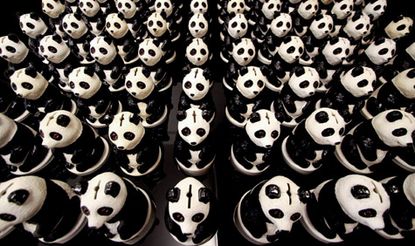 (Image credit: TBC)
The Worldwide Wildlife Fund has long been dedicated to the defense of the natural world and, as such, it seemed high time to resurrect the iconic panda collection boxes which, until 2007, had been the face of the WWF for nigh on 50 years.
See some of the customised limited edition pandas on display in the windows of Selfridges (opens in new tab)
In a suitably philanthropic twist, Selfridges (opens in new tab), curatorial group Artwise (opens in new tab) and a veritable army of creative names have teamed up to produce a series of specially commissioned versions of the collection boxes.
Taking the iconographic panda bear and cub as their cue, artists including Paul Smith (opens in new tab), Gavin Turk and Tom Dixon (opens in new tab) have added their own distinctive additions to the bear-shaped boxes in a bid to draw attention to the depleting state of the planet.
Incorporating 120 of the original panda units into 16 unique works - ranging from sculpture and video art, to collage and drawing - the works will occupy the windows lining Selfridges's westerly wing, and the corner units on both Oxford and Orchard Street.
A selection of the pieces will also be auctioned off near the close of the exhibition - on the 12th of October - with all proceeds of the sale going directly to the WWF.
With pieces such as Peter Blake's red balaclava-clad bear; Rachel Whiteread's stoical plaster pandas and Tracy Emin's characteristically scratchy interpretations, the exhibition – set to continue until the 28th October – will undoubtedly bring some much-needed awareness to the busy streets of Central London.
ADDRESS
Selfridges London
400 Oxford Street
London
W1A 1AB
VIEW GOOGLE MAPS (opens in new tab)