'Open for Business' spotlights seven decades of commercial photography by Magnum artists
'Open for Business: Magnum Photographers on Commission' at Foam Amsterdam explores the hidden stories behind Magnum photographers' commercial projects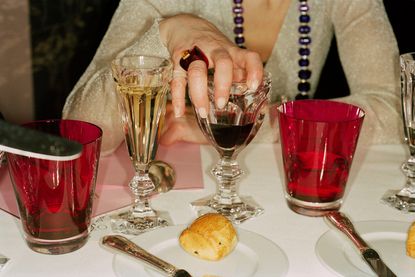 (Image credit: © Martin Parr/ Magnum Photos)
The space between a photographer's independent work and their commercial work is filled with contradictions and connections; it's rare for one side to exist without a hint of the other. For most, the cycle works as follows: personal work attracts commercial clients seeking to draw on the artist's perspective, which then funds the next chapter of personal work, which then draws in new commissions, and so on.

Both sides fuel each other while seeking often opposing forms of success, as cultural accolades and financial rewards are not always aligned. Perhaps this tension between the two sides propels photographers forwards as they seek out a balance between aesthetics and ethics.
Revealing this often hidden complexity is 'Open for Business – Magnum Photographers on Commission', an exhibition presented by Foam Amsterdam (on view until 7 September 2022). For more than 75 years, Magnum's roster has been taking on diverse commissions ranging from reporting for NGOs to fashion shoots for the chicest of publications to advertising tinned food. Magnum has done it all, while also creating some of the most memorable imagery of our time.
Curated by Anne-Marie Beckmann, director of Deutsche Börse Photography Foundation, and Mirjam Kooiman, curator of Foam, eight exhibition chapters carry visitors along a journey through assignments that occupy the intersection of art, documentary and commerce.
Artists include Olivia Arthur, Henri Cartier-Bresson, Bruce Davidson, Elliott Erwitt, Jean Gaumy, Bruce Gilden, Jim Goldberg, Harry Gruyaert, Alex Majoli, Steve McCurry, Cristina de Middel, Rafal Milach, Inge Morath, Trent Parke, Martin Parr, Paolo Pellegrin, Gueorgui Pinkhassov, Mark Power, Alessandra Sanguinetti, Alec Soth, Newsha Tavakolian and many more
Information
'Open for Business: Magnum Photographers on Commission', until 7 September 2022, Foam Amsterdam.

foam.org (opens in new tab)
Sophie is currently Photography Editor at Wallpaper*. Sophie joined the team following the completion of her photography degree in 2018, and works with Photography Director Holly Hay, where she shoots, commissions, produces, and writes on photography. Alongside this, she continues her art practice as a photographer, for which she was recently nominated for the Foam Paul Huf Award. And in recognition of her work to date, Sophie was nominated by the British Journal of Photography for the Futures photography platform in 2021.