Norbert Schoerner's AI art redefines image-making
Norbert Schoerner uses machine-learning technology to translate text into images – explore his AI art here and at his 'Decoy' exhibition at London's Fitzrovia Chapel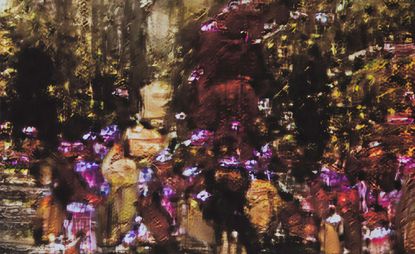 (Image credit: artist and Gallery 46)
Generative Adversarial Network, or GAN, is a machine-learning framework that can create new data – whether image, sound or video – by analysing and transforming large datasets. It is the technology behind Deepfakes, which have stirred widespread controversy of late for their potential to spread misinformation and cause reputational damage.
In the hands of German artist and photographer Norbert Schoerner, however, a GAN has become an artistic collaborator. Feeding brief textual vignettes into the framework, he generates digital PNG files that are at once alluring and disquieting. They challenge conventional notions of art-making, as well as our understanding of what we see when we look at an image.
His exhibition 'Decoy', currently on view at a Gothic revival chapel in London's Fitzrovia, brings together 14 abstract, eerie pieces produced with the assistance of a GAN. It follows on a project titled Pictures I Never Took, which investigated the relationship between text and image, creation and perception.
The exhibition is split into two parts: the first consists of a series of plates laden with text, which the photographer likens to opthamologists' charts. 'They describe photographic images and encounters,' explains Schoerner.
The second part sees the texts fed into a 'story-to-image generator' – a GAN-based system that has been trained on machine-learning image datasets, to give visual form to what has been described in writing.
AI art: 'a new imagination at work'
Schoerner describes the works as 'worlds presented by a new imagination at work, an intelligence other than our own; they are flowers of unknowable romance pulled from unfamiliar fields of information'.
Beyond opening our eyes to the aesthetic capabilities of artificial intelligence, he would also like us to reconsider the way in which we connect with art. Referring to 'this age of sensory and visual overload', he questions whether we ever spent enough time in front of the same image – or if we're so accustomed to skimming that we fail to remember with precision. The images we've seen become distorted in our minds, like the ones created by his GAN-based system.
He concludes: 'This inability to hold on to facts and experiences, I want to suggest, limits the extent of our imagination and can be a challenge to our emotional wellbeing.'
INFORMATION
Norbert Schoerner, 'Decoy', until 2 October 2021, Fitzrovia Chapel, fitzroviachapel.org