Could NFTs spark a photography revolution? Meet the innovators
As Web3 platform Fellowship brings world-class photography to the blockchain, including newly minted work by Joel Meyerowitz and Pieter Hugo, we explore how NFT photography is changing how we buy, sell, authenticate and experience art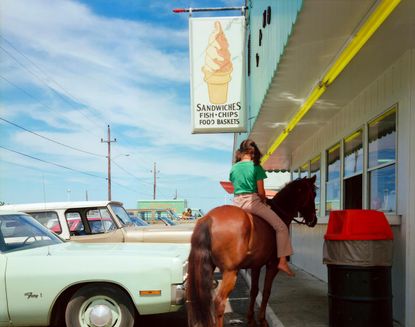 (Image credit: Joel Meyerowitz)
Wallpaper* Newsletter
Receive our daily digest of inspiration, escapism and design stories from around the world direct to your inbox
Thank you for signing up to Wallpaper. You will receive a verification email shortly.
There was a problem. Please refresh the page and try again.
When the concept of NFTs first blitzed into the mainstream and cemented itself in everyday parlance, it seemed the medium's groundbreaking upsides – smart contracts built around artist royalties, or the ability to digitally authenticate works in perpetuity – became quickly overshadowed by the sheer volume of content. But now a new breed of fine art Web3 platform is raising the cultural cachet of NFTs (non-fungible tokens), elevating them beyond online marketplaces and framing them with a considered curatorial impetus.
Founded by a forward-thinking group of artists, collectors and creative minds – Wallpaper's own photography director Holly Hay among them – Fellowship brings museum-worthy photography to the blockchain. 'We want to push the boundaries of how photography can exist in the digital space through presenting traditional fine artists and estates alongside the more experimental and working artists of today,' explain co-founders Alejandro Cartagena and Chadwick Tyler. 'Not only are we commissioning "native" work, but we are nurturing emerging artists through programmes to make work not yet conceived. Our intention is to spotlight how the world is today through photography, and create a new path for artists to reach new audiences.'
The organisation's inaugural NFT photography auction offered works by Gregory Crewdson, with further auctions and exhibitions to feature Laurie Simmons, Larry Sultan, Hank Willis Thomas, and the estates of August Sander and László Moholy-Nagy. Fellowship is also building an active community through weekly talks and panels with leading figures across arts, photography, collecting and publishing. (Beyond that, Fellowship offsets all mint costs and is committed to being carbon neutral).
With over six decades of artistic practice under his belt, Joel Meyerowitz has lived the evolution of photography more deeply than most. 'Photography is the only art form that constantly refreshes itself through changes in its technology, while at the same time sharing these changes with the global population. It is the world's most democratic art form. The medium has been this way almost since the first moment of its creation. It has always been "collectible",' says Meyerowitz. 'Now, we have the NFT: a remarkable new way to collect the great images of the past and the present, with the exception that now one can have only a single minted image, rather than an unlimited number of prints. The rarity that collectors of photography have always sought is now a reality.'
South African photographer Pieter Hugo is another artist embracing the medium: 'I've been thinking through the shifts I have had to make in my career from 35mm to medium format, colour negative to digital. The nature of photography is such an evolutionary one and has always been tied to technology – you have to adapt. I would hate for my work to feel like a sentimentalist reiteration of an expression that existed in the past and I'm excited by change.'
The potential applications and opportunities for artist's estates, too, are promising. Guy Bourdin continually broke new visual and conceptual ground throughout his career – so what would he have made of the blockchain and his Fellowship exhibition? 'Bourdin was an early adopter of new devices and technology, unhappy with the quality of the print in publication,' his estate comments on its collaboration with Fellowship. 'It's our belief he would have adopted and enjoyed the possibility in the same way that Joel Meyerowitz approaches the medium. We're committed to constantly improving the way his works are displayed, and the progressive technology behind Web3 would've been something he would've enjoyed exploring.'
Initiatives such as the Fellowship are building a vital and thoughtful foundation for NFTs – more importantly ensuring their staying power in a meaningful way. 'It's very important for Fellowship that they are talking about photography both in and outside the NFT space. This is all about the future of photography as a whole and supporting artists with new opportunities,' adds Hay. 'In my role, I feel a responsibility to understand and support new possibilities for photography. This space provides a real potential to fund new work, [and in terms of] who can access it and from where.'
INFORMATION
Receive our daily digest of inspiration, escapism and design stories from around the world direct to your inbox