A show at Dominique Lévy proves Enrico Castellani's cutting-edge credentials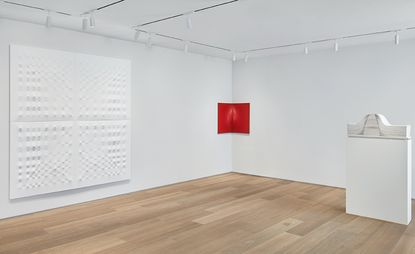 (Image credit: Enrico Castellani, Dominique Lévy)
Donald Judd once referred to the Italian artist Enrico Castellani as the 'father of minimalism'. Back in 1959, together with his close friend Piero Manzoni, Castellani co-founded a gallery and journal in Milan called Azimut, in which both Robert Rauschenberg and Jasper Johns unveiled seminal works – a true creative, to say the least. Today, at 85 years old, Castellani, who was originally trained as an architect, still remains productive, producing works out of a studio located about an hour and a half from Rome.

After a show in London earlier this year, Dominique Lévy New York is presenting a selection of Castellani's work, much of which is on view in the United States for the first time. The concept for the show is that 'Castellani has always been working with this idea of his works as interfering or an intervention in space, and working with light, and blurring the lines of perspective and angles', says Emilio Steinberger, senior director at Dominique Lévy, who has worked with Castellani for several years. 'The show puts together large works, in white, whether they're new or older works, with his more object-like paintings, which are [the] corner paintings. Some are very recent, and some are older.'

The show displays Castellani's mastery of manipulating light and form, bringing his hand-stretched canvases to life. The oldest work, Superficie angolare rossa (1961), is comprised of two red sides that meet and jut out at the corner. 'Most artists avoid the corner, and here's Castellani attacking the corner, and changing the way you see a corner or perspective,' says Steinberger.

Castellani used nails under a stretched-out canvas to form a sort of dance between the light, angles and the shadows, like in the 2008 diptych Superficie bianca – Dittico.'The parts [where] the nail is pushing [the] canvas very taught almost feels like a different white, like it's lighter than the deeper part of the white – so that's dealing with space and light,' says Steinberger.

Through its wide display of the artist's oeuvre, the exhibition demonstrates Castellani's background as both an architect and artist. 'His idea is to activate the surface, which is the canvas, by making this three-dimensional thing,' Steinberger concludes.
INFORMATION
'Enrico Castellani: Interior Space' is on view until 21 May. For more information, visit Dominique Lévy's website

Photography courtesy of the artist and gallery
ADDRESS
Dominique Lévy
909 Madison Avenue
New York, NY 10021
Receive our daily digest of inspiration, escapism and design stories from around the world direct to your inbox