Matthew Day Jackson goes galactic with NetJets
The American artist collaborated with the private aviation enterprise to design its VIP lounge at Art Basel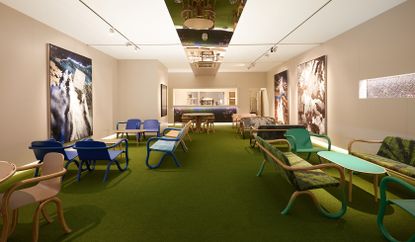 (Image credit: TBC)
NetJets has been whisking its globetrotting clients to far-flung destinations for more than five decades. Tasked with the commission for the private aviation company's VIP lounge at Art Basel this year, however, American painter, sculptor and photographer Matthew Day Jackson embarked on a mission to transport fairgoers even further, with a suite of paintings and new iterations of his furniture collection for Finnish design house Made By Choice, inspired by images of the moon.

Jackson was drawn to photographs by astronauts looking out into space, with one particular cataclysmic event igniting the line of inquiry that would result in his Solipsist series of paintings. 'It started with the first Gulf War, when the Iraqi Army was retreating and lit the oil fields on fire – you could see the trails of black smoke from space,' explains the artist. 'It made me think about how I could locate the event within our history. I knew that human beings had created this smoke, but you couldn't see the human beings.'
His Solipsist paintings of silkscreened Formica landscapes, with satellites cast in poured lead form a constellation of manmade 'scars' around the lounge. Each one depicts landscapes that are disappearing or transforming as a result of climate change – a particularly prevalent topic at this year's fair. Upon closer inspection, the four elements become apparent: land left barren by mining activity (earth), the polluted Ganges (water), forests engulfed in smoke plumes (air), and the volcanic Yellowstone Caldera (fire).
RELATED STORY
The NetJets installation also features Jackson's 'Kolho' furniture collection of chairs, benches and tables (first launched during Salone del Mobile in April), reimagined in bright new colourways and, in some instances, with a groovy tie-dye twist. 'There's a connection to the end of the summer of love, this idea that tie-dye is a symbol of freedom and abstract expressionism,' he explains.

Made with a custom Formica laminate based on aerial views of the far side of the moon, the furniture collection shares a common thread with his paintings. 'The serpentine form [of the chair legs] represents chaos, and the surface represents reason,' says Jackson, the tension between opposing forces ever underlying – decay quietly brewing behind a beautiful façade.

NetJets marks its 18th year as associate partner of Art Basel, and has previously collaborated with the likes of Snarkitecture, Oli-B, Timorous Beasties, and Rebecca Louise Law for projects during the fair.
INFORMATION
netjets.com (opens in new tab); artbasel.com (opens in new tab); hauserwirth.com (opens in new tab)