Curl power: Matthew Day Jackson's sinuous chair throws us for a loop
The New York-based artist joins forces with Made by Choice for a new collection of tables and chairs, titled Kolho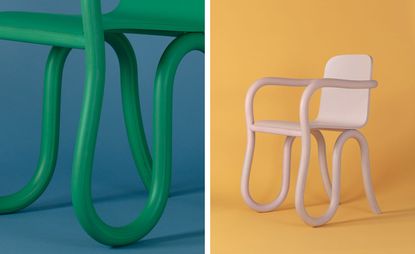 (Image credit: Felicia Honkasalo)
Matthew Day Jackson could never be accused of under-thinking a project: 'If you're making something, first, it should be weird. Second, it should be good,' explains the California-born, New York-based multidisciplinary artist. 'And if you have accomplished weird and good, then the final stage is: can you still make it fun?'

We're in the workshop of Made by Choice in Salo, Finland, to discuss Jackson's new collection of tables and chairs for the brand. Its directors – Lasse Laine, Niclas Ahlström and Sebastian Jansson – remark on Jackson's commitment to the task: he has stayed up until the small hours, producing prototype after prototype. 'For him, it's very much form follows function,' says Jansson. 'It's very unusual for an artist.'

'Matthew thinks very rationally in terms of what needs to be done,' adds Laine. 'He's thinking about posture as well as design.' That's not all he's thinking about, though: in explaining the genesis of the project, Jackson veers from Roman mythology to Nasa, and from the golden ratio to the very essence of what it is to be human. It's hard to know where to begin.

But let's start with Kolho. A small village in central Finland, its name is one of those typically Nordic words that seems impossible to translate into English – attempts vary from 'eerie place' to 'rough and sturdy'. It is notable for a few reasons: its thriving connection to the art world, thanks to its proximity to the extraordinary Serlachius Museums; a former resident who helped to revolutionise the American car industry, and whose son played a part in the space programme (more on this later); and the Finnish production facility of the Formica Group, which has been there for almost 70 years. Kolho also happens to be the name of the new furniture collection launching in Milan.
While visiting Finland last year, ahead of his show this May at Serlachius Museums, Jackson met Ahlström at a party and the two hit it off. 'I asked him if he'd be interested in making furniture; I just thought, we have to do this,' recalls Ahlström, whose own design credentials are impeccable: his family once owned the Iittala and Karhula glass factories and he is related to Maire Gullichsen, who co-founded Artek with Alvar Aalto. But he is keen not to dwell on the past, instead talking about establishing 'a new golden age of Finnish design' with Made by Choice, celebrating craftsmanship and sustainability. 'We're against throwaway consumerism; it's about bringing back a respect for materials,' he says.

Jackson brings more than artistry to his collaboration with the brand. 'Matthew thinks as an engineer as well as an artist,' says Jansson. 'It's about the beauty in a simple solution or in the quality of joinery.' The 'Kolho' chair is a case in point, its legs and arms comprised of a single, snake-like, curving line. And when sunlight hits the wood veneer of its deep black version, it produces a stunning rainbow effect echoing the prism design on the cover of Pink Floyd's Dark Side of the Moon album.

Which leads us to the other key element of the collection: a specially designed Formica laminate called MDJ Kuu ('Kuu' is Finnish for 'moon') that has been used to create a tabletop and some of the chairs' curved seats. Having used Formica in a number of his artworks – 'It's amazing stuff: I've spilt molten lead on it and wiped it o. without leaving a mark' – Jackson took the opportunity to visit the Formica factory in Kolho during his stay in Finland. He had been developing an idea relating to the 50th anniversary of the moon landing when he discovered the town's connection with the event: Vaino Jack Vehko (son of local engineer James Vehko, who'd emigrated to the US and designed the first metallic automobile chassis for Ford) oversaw the rocket programme of Chrysler's Space Division, which paved the way for Nasa's moon missions.

Following his factory visit, Jackson emailed Philip Wise, European marketing director of the Formica Group, with a proposal to produce a bespoke laminate that was a topographical recreation of the dark side of the moon, accurate and to scale. 'I was transfixed by his story and the Kolho connection,' says Wise. 'I could easily have said, "No, that's not really for us." But we were just really excited by him. And we were really the only people who could do it because we have our own steel platemaking manufacturing capabilities.'

Perfectly reflecting the various strands of Kolho's heritage, the resulting collection is definitely weird, good and fun – mission accomplished.
As originally featured in the May 2019 issue of Wallpaper* (W*242)
INFORMATION
Kolho collection, from €899, by Matthew Day Jackson, for Made by Choice, is on view 9-14 April. For more information, visit the Made by Choice website (opens in new tab), the Hauser & Wirth website (opens in new tab) and the Formica Group website (opens in new tab)
ADDRESS
Via Maroncelli 7
Milan
VIEW GOOGLE MAPS (opens in new tab)