London's 180 The Strand is saturated in radical new media art
'LUX', an LG-sponsored new media art exhibition at 180 The Strand, brings together 12 artists and collectives at the cutting edge of audio-visual technology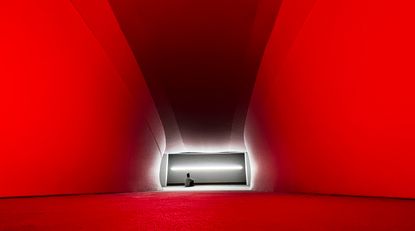 (Image credit: courtesy 180 Studios)
The cavernous spaces inside the brutalist building 180 The Strand, now known as 180 Studios, have been animated with monumental, loud and flashy (often literally) experimental works in recent years, from Ryoji Ikeda's test pattern right back to the unforgettable debut group show, 'The Infinite Mix'. Devoted to new media art, the latest show to inhabit the central London site is no less ambitious or absorbing – but its subtlety might take viewers by surprise.
So says Dr Jiyoon Lee, curator of 'LUX: New Wave of Contemporary Art', an exhibition of 13 new media art pieces by 12 artists and collectives working in radical ways – the likes of Random International, the collaborative group behind Rain Room, and the godmother of new media art Hito Steyerl are among the line-up. The works, including several new, never-seen-before commissions, make pioneering use of tech not commonly found in ruminative works of art: 3D projection mapping, neural networks, quantum computing, open-source VFX software, and algorithmic visualisation.
'There is a big, and very important, movement at the moment towards experiential and immersive art, including teamLab, Superblue or the Arte Museum in Korea,' Lee says. She is the director of SUUM Project, a curatorial platform for promoting innovative contemporary art practices, and spearheads the LG OLED Art: Self-Lit Gallery exhibition series. 'There is an element of this in "LUX", but, more importantly, we wanted to give a broad and global representation of how artists are currently working with all kinds of technology as part of their practice, in a way that has not been done before.'
Many of the works directly take on the show's title – LUX being Latin for 'light'. Es Devlin's work, BLUESKYWHITE (commissioned by 180 Studios) transports the spectator-participant back to the 19th century, to the dimming of the sun that occurred in the aftermath of the eruption of Mount Tambora, Indonesia, in 1815, an event that released more than 100 million tonnes of gas into the atmosphere and cooled the Earth by some 3 degrees Celsius. Devlin has built a 24m-long tunnel that envelops the visitor in an intense red glow, an emotive and ambivalent contemplation of the possibility of replicating the effects of the volcanic eruption that could save the planet from burning but would lead to the death of blue skies.
As well as exploring light, movement and space through advanced technologies, 'LUX' pays homage to the little things we take for granted. The show was conceived partly in response to the Covid-19 pandemic, 'which has been a time of isolation and metaphorical darkness for so many people', Lee explains.
One such example is Flower Meadow, by Swiss collective iart, commissioned by LG. Invited to create a work using OLED – wafer-thin, light-emitting panels, usually found in television and phone screens – but used by iart as a sculptural material. Flower Meadow consists of a non-fungible species of flowers that are nourished by AI that will renew and proliferate every day.
In concert with this is Julianknxx's 180 Studios-commissioned Black Corporeal (Between This Air), a short film Lee describes as 'a beautiful, repetitive, and poetic sound piece, exploring the idea that our ability to breathe – an act that is continuously challenged by everything from air pollution, stress, anxiety and societal prejudice – is more than our lungs' ability to take in air, but a reflection of the way we live individually and together'. Finding epiphany in the everyday, Julianknxx reminds us that everything is connected.

This is felt profoundly in artist a'strict's multisensory installation Starry Beach: a luminescent space of scintillating waves, reminiscent of a star-studded sky at night. Starry Beach – the title recalling Starry Night, Van Gogh's masterpiece – reconnects us with an age-old feeling of awe in the face of nature, a theme that has inspired artists for centuries. This is perhaps what makes 'LUX' such a unique proposition: the works may employ the materials of the future, but their enduring subjects are rooted in classical artworks, tracing a trajectory that's often ignored and suggesting there might be more to new media than holograms and flashing lights.
INFORMATION
'LUX: New Wave of Contemporary Art', co-curated by SUUM and Fact, is on view 13 October – 18 December 2021 at 180 The Strand.
Charlotte Jansen is a journalist and the author of two books on photography, Girl on Girl (2017) and Photography Now (2021). She is commissioning editor at Elephant magazine and has written on contemporary art and culture for The Guardian, the Financial Times, ELLE, the British Journal of Photography, Frieze and Artsy. Jansen is also presenter of Dior Talks podcast series, The Female Gaze.