Lucy Williams exhibition at Timothy Taylor Gallery, London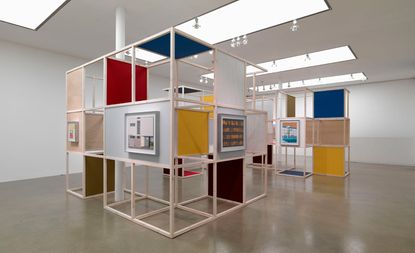 (Image credit: Lucy Williams)
If you are new to midcentury architecture, you might look upon a cache of Modernist snapshots as a far-gone utopia, an optimistic framework for communal living and prosperity built by the Greatest Generation - without all the baggage accumulated in the darker years between then and now.

This is how London artist Lucy Williams comes to her subject matter, residential tours de force by celebrated Modernists like Walter Gropius, Marcel Breuer and Brinkman en van dern Vlugt, the architects who built the Sonneveld House in Rotterdam. In capturing the houses in their midcentury prime, she lends them a happy retro quality, punctuated with Technicolor zips and patterns.

As a result, her second solo exhibition 'Pavilion', 16 vast new works debuting this week at Timothy Taylor Gallery, expresses a sort of anti-Edward Hopper innocence that is only half the story.

Beneath the façades are layers of collage that Williams carfully applies to affect a true structure to her art. Transforming builders' salvage into scale balsa wood panels, steel strips, cork tiles, Plexiglas windows and bricks of real mortar, she assembles architectural bas-relief which increases in depth the closer they are.

The 3m, mural-like 'Montparnasse', based on a photograph of Jean Dubuisson's Maine-Montparnasse apartment complex, is an intricate latticework for which Williams hand-cut thousands of coloured paper fragments beneath a duck-egg sky. Her homage to the Brutalist block is more sanguine and infinitely more involved than, say, Andreas Gursky's iconic photograph of the 1990s.

Her rendition of the library at the Maison de Verre in Paris, designed by Pierre Chareau, sits in stark contrast to the dim, dusty library lore that emerged in the 1970s and 1980s. These books, you are confident, will be read, savoured, enjoyed.

Other works have intense skies fabricated from woven tapestries or cross-stitch.

Williams' attention to detail is second only to those architects who pioneered the Modernist movement. Their stories are absent here, as are the stories behind the families who occupied these spaces, however optimistically or pessimistically. In some works the shades are drawn or the views inside obscured, suggesting something even deeper within, reluctant to come to the surface.
ADDRESS
Timothy Taylor Gallery
15 Carlos Place
London W1K 2EX