'Love is...' by Barnaby Barford, London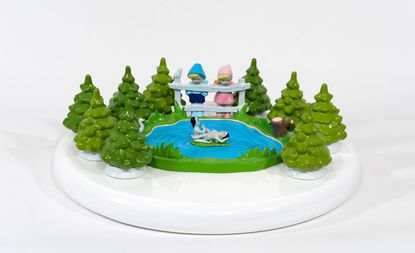 (Image credit: Noah Da Costa)
After a foray into the land of fairytale with Damaged Goods - a love story played out by figurines on film - ceramic artist Barnaby Barford has returned to decidedly more smutty realms with his new show 'Love is...' at David Gill Galleries in London.
Pornography, orgies and public indecent exposure might not be what you'd expect from quaint porcelain characters but then he has never been one to shy away from the depraved in his work. Among his previous unsavoury cast we've had binge-drinkers, gun-wielders and Mickey Mouse with an erection.
'I'm exploring the difference between love and lust,' says the British artist of his new work, 'how love is beautiful, everlasting, charitable, heavenly, something we all strive for in life. Lust is momentary, sinful, selfish, sometimes brutal. I think more and more we mistake feelings of love with those of lust. I'm not interested in only porn per se, but I am interested in how we learn what relationships and sex are about and in what order.'
Mounted on neat white porcelain plinths, there's a courting couple whose whispered exchanges are not quite the sweet nothings you'd expect, then there's a hooded youth wading through a stash of Hustlers and Busty, asking 'how else do you expect me to learn?' These works may shock but, as always, Barford deals with his themes with a good dose of wit and a sharp aesthetic kick.
ADDRESS
David Gill Galleries
3 Loughborough Street
London SE11 5RB