Linder invokes the spirit of Helen Ede in multi-sensory takeover of Kettle's Yard
The British photomontage artist with hex appeal raises ghosts in the Cambridge gallery and modernist house for her first UK retrospective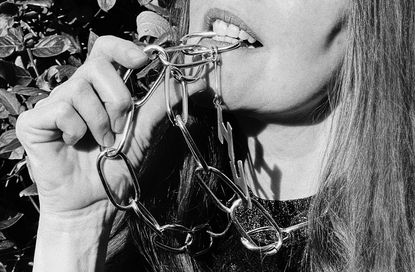 (Image credit: Jessica Klingelfuss)
'Size matters!' exclaims a chipper Linder Sterling. The British artist, known simply as Linder, is putting the finishing touches on her new show at Kettle's Yard when I walk into the Cambridge gallery. The exhibition title vinyl needs enlarging before the opening on 15 February; curator Amy Tobin conducts the tape measure with maestra-like finesse and fires off an email with the new measurements to Brussels-based designer Julie Peeters. Linder's attention turns to a bespoke set of stamps with a claw-hand motif. They arrived moments ago and there's a flurry of discussion before the first one is christened. Too ginger, perhaps? More gusto, 'like a post office worker having to do 100 stamps a day', she declares. Sharp and decisive, the second attempt elicits a satisfied peep of delight.

There is an instantly calming quality to Linder, as though her very presence is a balm to the swirling disarray around her. And it's all too fitting that the first UK retrospective of her work has been named 'Linderism'. The artist has quietly and stealthily commandeered Kettle's Yard in a multi-sensory takeover, from the galleries to the House, Research Space, front-of-house staff uniforms, stairwell, café menu, and the neighbouring St Peter's Church. The survey traces five decades of Linder's practice, from her emergence in the Manchester punk scene of the 1970s to her provocative feminist photomontages and performances, photography and self-portraits, drawings and recent public art commissions.
'It's a beautiful space,' whispers the artist as we enter the Edes' house, 'but as ever, I'm curious as to what is absent.' The patron saint of invisible women, Linder has shown Helen – the wife of Kettle's Yard founder HS Jim Ede – a reverence that history did not afford her. To wit, the artist's interventions in the home centre largely on Helen's bedroom, a sanctuary that remained outside of Jim's curatorial remit and off limits to his visitors (tellingly, it is also the only space in the modernist house that was not preserved as it was when the couple lived there). Linder has tapped into its quietly feminine energy and the faint traces of the enigmatic Helen that still linger: 'This room of Helen's feels very safe, it feels very pleasurable.'

Here, the walls are adorned with photomontages made from 1970s Vogue pattern-books and interior design catalogues, featuring furniture appendages welded to romping models. They are an homage to the stacked sculptures and pierced forms of British artist Barbara Hepworth, but it is the timing that is especially pivotal. 'Barbara Hepworth broke her thighbone in 1970 and so her mobility was constricted,' recalls Linder. 'Whereas fashion photographers were showing women out and about, unencumbered and striding along, [magazine] adverts were telling a different narrative, always tethering women to the home or more traditional roles of food preparation.'
A curious hatch in the skirting board – used by Helen to communicate with her husband without having to leave the refuge of her bedroom – emits a spellbinding string composition by musician (and Linder's son) Maxwell Sterling. The sound installation, The One Who Benefits in Every Way (2020), is punctuated by the voices of women reciting both anatomical and slang terms for female sexual organs in their native languages (among them Urdu, Mandarin, French, Italian, and Spanish). The words are spoken in 'quite a tender way, as though they were talking to a 13-year-old girl or boy'.

In a display above, Linder has erected an altar of sorts, coupling a Naum Gabo sculpture made for his daughter with her own objects, including female fashion accessories sprouting synthetic hair from the series Lives of Women Dreaming(2004), and a prototype lipstick she created in collaboration with Poppy King for Wallpaper* Handmade in 2015. The works in the bedroom ultimately 'summon all of these women who aren't real, who aren't true historical figures – they're senses of something, or mythological, or saintly,' notes Tobin. 'If Linder can summon all of these figures, then she can invoke Helen as well.'
RELATED STORY
In Helen's room and throughout the rest of the home, Linder has coloured the air with a potpourri recreated from a recipe by Jim himself. As he explained in 1979: 'Any strong stranger blunt (not sweet) perfume I could find (travellers from the East bringing sandalwood, etc) – also a few handfuls of incense from various monasteries here or in the East – lots of lavender plucked and dried – and when all this assembled quite a decent helping of Cognac.' Also on display are glassware sculptures made with artist Jochen Holz, and a new photomontage incorporating a poster for Ken Russell's 1972 film Savage Messiah, which was adapted from Jim's book of the same title about artist Henri Gaudier-Brzeska.

It's not just the ghostly presences of the Edes that Linder gravitates to. In the church adjacent to Kettle's Yard, she calls up another spirit – this one deeply personal to her – with Salt Shrine. Originally commissioned by curator Michael Stanley for an exhibition in an abandoned school in Widnes in 1997, this new iteration of the installation follows on from the 2019 staging of the work at Birmingham's Ikon Gallery, for Stanley's memorial exhibition. The gallery director was 37 years old when he died by suicide in 2012, and the meditative work cites the purifying and healing properties of salt, lifting the veil on Linder's mourning.
Back in the main building, Linder's oeuvre is framed in a more academic context across the Jamie Forbert-designed galleries. The first section spans her early work, made while at art school in Manchester, and immediately after when she continued to live and work in the city. Highlights in the showcase include a series of S&M-style masks made as part of her graphic design course, and rarely-seen 1970s photographs of drag artists at Manchester's Dickens gay bar (she confesses she may have become a photographer were it not for the violent and vicious theft of her camera soon after). Linder's decades-old photomontages uncannily echo self-esteem issues of young women today. Back then, however, Linder was confronted by the pervasiveness of self-harm among her friends. 'I was the lucky one, I didn't overdose on drugs, I didn't cut myself, I didn't do my flesh,' says the artist. 'I had somewhere to take all my free-floating anxiety, the not-knowingness. I could make my mark with it.'

The second gallery is devoted to Linder's photomontages from 2006 onwards, some 20 years after she took a break from the medium. It's the variety of her source material that dazzles, from vintage pornography to Hollywood publicity shots, rose directories to ballet annuals, glamour photography to natural history collections, transvestite horse lovers to sploshing (the act of rubbing copious amounts of wet or messy substances for sexual pleasure, I learn from Linder). No fetish, perversion, or predilection is off-limits. And Linder treats each proclivity with the delicate sensitivity and discretion of a priestess in a confessional. Elsewhere in Kettle's Yard, her public Art on the Underground commission – first installed at Southwark Tube station in 2018 – becomes an entirely claustrophobic experience of flowers and female pleasure in the tight confines of the stairwell. We've now well and truly chased Linder down the rabbit hole.

But it all circles back to Helen Ede. For the duration of 'Linderism', Jim's name and masculine pronoun have been swapped out for Helen's across the Kettle's Yard website (befuddled art historians, stand down). And in a final act of reclamation, Linder has created a new line of House of Helen products. Available to purchase from the Kettle's Yard gift shop, the collection includes scented candles, notebooks, pin badges, cosmetic mirrors, fabric squares, printed papers, bath salts, and sticker packs to make DIY Linder-style collages. This is Linder: feminist, punk provocateur, forensic historian, spirit guide, storyteller, myth maker, musician, merchandiser, mother, botanist, eulogist, oracle, artist.
INFORMATION
'Linderism', 15 February – 26 April, Kettle's Yard. As part of the commissions produced for Kettle's Yard, Linder will premiere a new performance Bower of Bliss: An Improper Architecture in the New Hall Art Collection at Murray Edwards College, Cambridge, on 14 March. kettlesyard.co.uk
ADDRESS
Kettle's Yard
Castle Street
Cambridge CB3 0AQ
Receive our daily digest of inspiration, escapism and design stories from around the world direct to your inbox