A bewitching new photobook takes a walk on Japan's wild side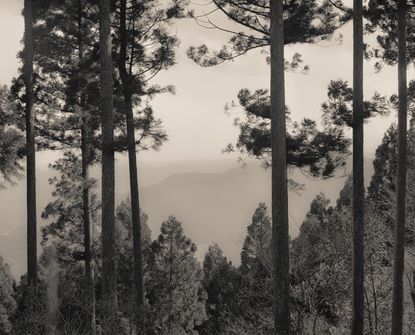 (Image credit: Lena C Emery)
In The Vegetarian – the award-winning novel by South Korean author Han Kang – a woman slowly turns into a tree, a process that is both erotically-charged and painful. 'Leaves are growing out of my body, roots are sprouting out of my hands; they delve down into the earth. Endlessly, endlessly... yes, I spread my legs because I wanted flowers to bloom from my crotch. I spread them wide.' Kang's strange story speaks not only of the position of women and their bodies, but of the particular relationship to nature in Eastern cultures.

In Japan, culture has long been intertwined with nature, perhaps no surprise on an archipelago that has been devastated by natural disasters over the centuries and still lives with the persistent threat of earthquakes, tsunamis and typhoons. The intrinsic importance of nature there has lead to the preservation of 65 per cent of the country's landmass is still covered in forest, (in the UK, by comparison, the figure is 12 per cent).
'There is a clear understanding [in Japan] of the interconnectedness between nature and human prosperity,' says photographer Lena C Emery, 'unlike a lot of Western philosophy, which has through the influence of Christianity and many other factors created more of a binary disconnect, unnecessarily perpetuating this nature versus culture dichotomy.'

To wit, Emery's luscious second monograph, Yuka & the Forest, situates us in the heart of the sacred forest. One of the most mystical and mythologised locations in Japanese folklore and tradition, the forest is also the centre of the shinto religion. What resonates first in the photographs is the profound stillness of this untouched wooded area – somewhere in a remote rural area of Japan – so removed from human activity.

The artist then introduces her fictional protagonist – Yuka – a solitary and poetic figure like Virgil in Dante's Inferno, on a journey, apparently in search of some spiritual essence or truth, alone and contemplative. Juxtaposed with images surveying a traditional Japanese home in the country, Emery reminds us of the way nature is a force that pervades all aspects of Japanese life. From architecture and design, to the way food is prepared and flowers are arranged, nature is embedded in their being.

Still, in the narration of words and pictures, there are also hints of sadness in the emotional connection with a vanishing landscape, harmed by humankind. 'My mind burned by a vision of a forest that once stood so tall and then was gone.'
INFORMATION
Yuka & The Forest, €60, published by Art Paper Editions. Printed entirely on recycled paper, each book comes with one colour print of choice (with three options available), 10 per cent of all proceeds go to the World Wide Fund for Nature
Charlotte Jansen is a journalist and the author of two books on photography, Girl on Girl (2017) and Photography Now (2021). She is commissioning editor at Elephant magazine and has written on contemporary art and culture for The Guardian, the Financial Times, ELLE, the British Journal of Photography, Frieze and Artsy. Jansen is also presenter of Dior Talks podcast series, The Female Gaze.