Laurie Anderson's animated notebook drawings to be screened globally on the full moon
Celebrated multimedia artist Laurie Anderson will unveil Notebook, a series of animated drawings screened publicly with Circa in cities across the world, launching on the full moon and running from 6-30 April 2023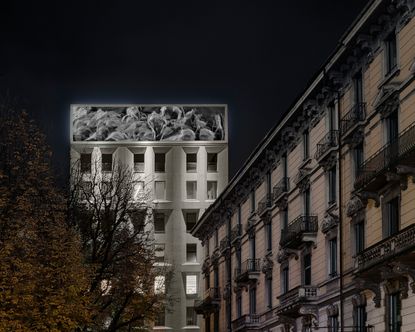 (Image credit: © CIRCA)
From 6-30 April 2023, Laurie Anderson and Circa (The Cultural Institute of Radical Contemporary Arts) will present Notebook, a series of 25 animated chalk drawings extracted from the artist's personal notebook, launching at global locations on the full moon and running from 6-30 April 2023.
The collaboration with the Grammy Award-winning musician, performer, writer and artist is the latest in the monthly Circa 20:23 programming, which was inaugurated by the Dalai Lama in January 2023, and has since seen takeovers by artist Anne Imhof and performance activists Pussy Riot.
Notebook will see a different video work each evening throughout April at 20:23 on London's Piccadilly Lights and broadcast across a global public network of digital screens in Berlin, Milan, Seoul and Tokyo.
Each of Anderson's drawings, which have been photographed and edited in stop-motion, is a poetic blend of poetry, politics and the deeply personal. Over its 25-day run, the project will evolve as a living narrative of words, drawings and stories. The American artist, musician, and film director is globally revered for her versatile multimedia creativity, from trailblazing experimental music, writing, opera and performance to major institutional art exhibitions, including 'Looking into a Mirror Sideways', which has just opened at Moderna Museet in Stockholm.
Notebook draws on Circa's 20:23 manifesto: 'Hope: The Art of Reading What Is Not Yet Written', which set out a global mission to cultivate and nurture hope through art. As Laurie Anderson commented, 'While I can't define hope in a few words, people using their own imaginations in the freest way possible makes me feel hopeful.'
As curator Vittoria de Franchis outlines in her essay for Circa on Notebook, 'Laurie Anderson's proposal for CIRCA 20:23, Notebook, consists of 25 animations composed of 135 drawings from her notebook. When I ask her what they are about, she answers: "I prefer not to turn them into language or explicate. The world is already overexplained. Think of them outside of context. Thought balloons. Appearing out of nowhere." It is no coincidence that Anderson's piece inaugurates on April's full moon day. Raising our gaze to look at the sky has become an archaeological gesture, something we romantically associate with menhirs and ancient discoveries. Cities don't have a sky; the lights are too bright, and pollution veils the firmament. We sometimes have the sensation that nothing is beyond skyscrapers, dangerously becoming condensed cores of our destinies.'
To coincide with the project, #circaeconomy (an initiative launched to fund Circa's free public programming), will offer a limited-edition series of 25 silkscreen prints featuring the artist's chalk drawings in an edition of 50 per print.
Notebook by Laurie Anderson for Circa 20:23 will be on view from 6-30 April 2023 at the following locations: London, Piccadilly Lights (20:23 BST); Berlin, Limes, Kurfürstendamm (20:23 CET); Milan, Cadorna Square, EssilorLuxottica (20:23 CET); Seoul, COEX K-Pop Square (20:23 KST); Tokyo, Shibuya Crossing (Hourly JST)
Limited-edition silkscreen prints are available to purchase via circa.art
Laurie Anderson, 'Looking into a Mirror Sideways' runs until 3 September 2023 at Moderna Museet, Stockholm. modernamuseet.se;
Harriet Lloyd-Smith is the Arts Editor of Wallpaper*, responsible for the art pages across digital and print, including profiles, exhibition reviews, and contemporary art collaborations. She started at Wallpaper* in 2017 and has written for leading contemporary art publications, auction houses and arts charities, and lectured on review writing and art journalism. When she's not writing about art, she's making her own.