Larry Bell transforms Venice Beach fog into works of sheer beauty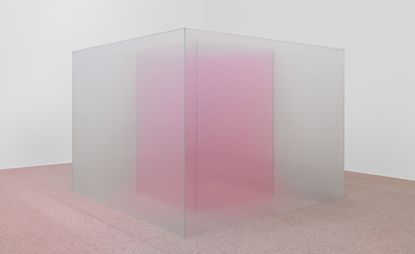 (Image credit: © Larry Bell. Courtesy of the artist and Hauser & Wirth)
'Los Angeles weather is the weather of catastrophe, of apocalypse,' wrote Joan Didion, referring to the caprice of the Santa Ana fog, proclaiming a kind of pathetic fallacy for the flittish and fickle rhythm of life in the city. The weather phenomenon begins at sea and can quickly cover southern California's coastal cities with a damp, cold, grey layer known locally as 'June gloom', as it often occurs in the late spring and early summer. It's all quite at odds with the typically sun-kissed image of Los Angeles.

Larry Bell knows the fog that blankets the city well. The artist has worked in the beatnik neighbourhood of Venice Beach since the 1960s, and has often observed the clouds descend over the muscles and madness of the promenade.
The result of all this is a series of works dubbed 'Venice Fog: Recent Investigations', an interpretation of the way the fog rolls in over the lights of LA, shrouding the manmade in nature. It was originally produced as a commission for the Museum Abteiberg in Mönchengladbach, Germany, in 1992, and redesigned in 2018 in a new formation.

Emerging as part of a group of post-painterly West Coast minimalists in the 1960s, Bell, who was well known in the US and Europe by the age of 30, is now less famous than his peers Frank Stella and Donald Judd. Perhaps this is because his works are quieter, more ambient, both in terms of palette and gesture. At 78, this is his first exhibition at Hauser & Wirth in Europe, taking place at the gallery's Zurich space.

The show-stealer is a series of very large glass cubes, with blocks of fuzzy colour suspended inside them like giant ice lollies, ranging from synthetic disco pink to opaque, dense cream – they look good enough to eat. The faint glow they give off is like a muffled bass line, or a curtained window – there's a sense of a far-off energy. A series of smaller, plinth-standing laminated glass maquettes, each encasing shades of blue and foamy white, recall the original inspiration, the marine fog over Venice, more directly.
The works are a continuation of Bell's fascination with luminosity, which he has made his muse and medium over the decades, working with an alchemical alacrity. 'Although we tend to think of glass as a window, it is a solid liquid that has at once three distinctive qualities,' Bell says. 'It reflects light, it absorbs light, and it transmits light all at the same time.'

You hardly need to tell anyone in the Northern Hemisphere in January how light affects mood – and Bell's structures suspend Venice's atmosphere in a unique way: melancholy, spectral, but also spectacular.
Information
'Venice Fog: Recent Investigations' is on view until 3 March. For more information, visit the Hauser & Wirth website (opens in new tab)
Address
Hauser & Wirth
Limmatstrasse 270
8005 Zurich
VIEW GOOGLE MAPS (opens in new tab)
Charlotte Jansen is a journalist and the author of two books on photography, Girl on Girl (2017) and Photography Now (2021). She is commissioning editor at Elephant magazine and has written on contemporary art and culture for The Guardian, the Financial Times, ELLE, the British Journal of Photography, Frieze and Artsy. Jansen is also presenter of Dior Talks podcast series, The Female Gaze.