Textile taxonomies: The Institute For Figuring creates a 'Crochet Coral Reef' in NY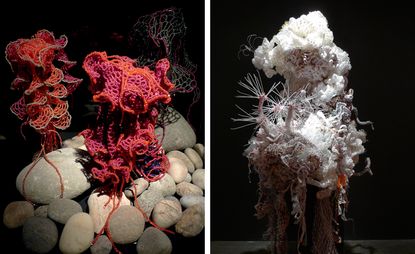 (Image credit: press)
Colourful crocheted yarn blends with vibrant plastic waste to form Crochet Coral Reef – an ongoing project by sisters Margaret and Christine Wertheim and their Los Angeles–based organisation, The Institute For Figuring.

Now in its tenth year, the sisters are celebrating the anniversary of the project with an exhibition titled 'Crochet Coral Reef: TOXIC SEAS', curated by Samantha De Tillio for New York's Museum of Arts and Design (MAD).

Born in the Wertheim's living room in 2005, Crochet Coral Reef began as an effort to illustrate the connection between science and art, while also raising awareness for the consequences of global warming on living reefs. Since then, the project has continued to grow — expanding to cities and countries around the world.

The latest iteration brings together three key 'habitats', including a 'Bleached Reef' and a new 'Toxic Reef', representing dying corals. 'The Midden' is another section, constructed from four years' worth of the Wertheims' own domestic plastic trash, a response to human-made phenomena such as the Great Pacific Garbage Patch.

'If someone had said at the start that we'd still be crocheting corals ten years later I wouldn't have believed it, but the project has developed in ways we didn't expect,' Margaret Wertheim says. 'The biggest surprise has been how much taxonomic variety has emerged as we and our core group of "Reefers" worldwide have played with variations of the original algorithm.'

Using a discovery by Cornell University mathematician Dr Daina Taimina – that hyperbolic surfaces could be modelled via crochet – the Wertheims have developed a range of biological variations on the algorithm that fuse mathematics, biology and craft to produce a diverse array of coralline structures, an 'ever-evolving artificial ecology'.
Information
'Crochet Coral Reef: TOXIC SEAS' is on view until 22 January 2017. For more information, visit the MAD website (opens in new tab)
ADDRESS
MAD
2 Columbus Circle
New York, NY 10019
VIEW GOOGLE MAPS (opens in new tab)