At Kyotographie, photographers are looking onwards and upwards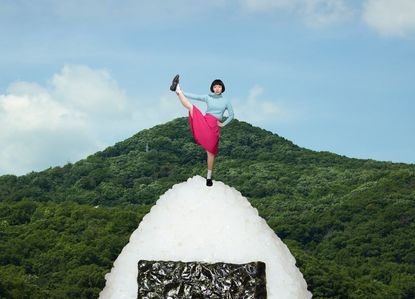 (Image credit: © The artist)
It's often a bit of a challenge to elevate an exhibition of photography beyond pictures on a white wall. But Kyotographie (14 April –13 May), Japan's largest international photography festival, has managed to combine the lure and charm of the country's old capital with clever curation in unique locations throughout the city, making the whole experience a small expedition in discovery.

This year marks the sixth edition of the festival, which appears to grow organically each year with as many as 15 separate exhibitions in tranquil temples and industrial settings this year. We particularly like the Yukio Nakagawa exhibition of the fate of flowers set within the picturesque Ryosokuin temple. In a spacious room fitted with pitch black tatami mats, Nakagawa's photographs of his avant-garde sensual flower (and vegetable) arrangements are juxtaposed with the traditional Japanese interior and the backdrop of the temple's exquisite garden.

The exhibitions at the retro wholesale market area of Tambaguchi shows thought-provoking work by South African photographer Gideon Mendel from his Drowning World series on climate change, and black and white portraits by Spanish artist Alberto García-Alix, both presented in a former ice factory. It's a brilliant choice of venue – not a typical destination along touristic routes through the city – and adds a sense of urgency to the exhibited photographs.

BMW, Kyotographie's main sponsor, has also gone all-in with an overdose of Jean-Paul Goude at the 'So Far So Goude' exhibition at the Museum of Kyoto Annex. The first floor shows a selection of Goude's iconic imagery focusing on the three of his most fretted muses and a couple of Chanel explorations, while the second floor is turned into a Goude cinema, showing an hour long plethora of the French graphic designer and photographer's past projects.

The darling of Kyotographie though is young Izumi Miyazaki. This is the 24-year-old's biggest show to date and her humorous Photoshopped self-portraits not only take over an entire building in Kyoto's Gion district, but also appear on a wrapped BMW i3 that is one of two cars running as a shuttle between the venues on weekends and public holidays throughout the festival.

During the festival, there is a host of satellite events and exhibitions (notably the KG+ showcasing the work of emerging photographers) and combined with the charms of the city, Kyotographie should be on your itinerary if you are in Japan sometime during the next month.
RELATED STORY
INFORMATION
Kyotographie International Photography Festival 2018 runs from 14 April until 13 May. For more information, visit the website (opens in new tab)