Berlin gallerist Johann König heads east with Tokyo outpost
The Ginza gallery opens with an exhibition by photographer Juergen Teller exploring homesickness, German identity and his position as a European immigrant to the UK amid Brexit uncertainty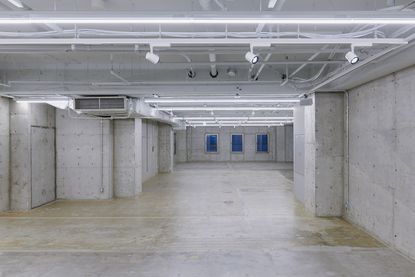 (Image credit: Courtesy of König Galerie)
Having been looking to opening a space in Asia for some time, a friendly lunch with MCM Worldwide owner Kim Sung-joo earlier this year secured charismatic gallerist Johann König a rare 300 sq m space right in the middle of Tokyo's answer to Fifth Avenue: the centrally-located Chuo-dori in Ginza.

'The location couldn't be better,' König explained to us ahead of the gallery opening on 9 November. 'Look out of this window and there is the Tag Heuer building. Look across Chuo-dori and there is Louis Vuitton. On the weekends, they even close the street off to all traffic, creating a commercial pedestrian heaven.'
According to König, Kim had been playing with the idea for a gallery in MCM's Ginza Haus 1 for some time before their lunch. The gallery sits on the sixth floor of the brand's Tokyo flagship and the space is kept raw with bare concrete flooring, exposed ceilings and partition walls to display the art. Exhibitions will change on a five-week rotation basis and the first is a series of large prints by photographer Juergen Teller, titled 'Heimweh' (German for 'homesickness' or 'yearning for home').

König and Teller put the show together in London and it's an eclectic collection of semi-erotic images (Kim Kardashian clad in stiletto boots and clambering up a pile of rubble at Château d'Ambleville, France; a close-up of an armpit) and a happy mix of parked-bicycle disarray in front of Göttingen railway station, a still-life of oranges, and a poignant portrait of Japanese fashion model Rila Fukushima sitting nude in a hotel room with her hand lovingly inserted into a French horn.
RELATED STORY
In contrast to Hong Kong, Tokyo only has a couple of international galleries (namely, Blum & Poe and Perrotin), and König is excited about this new gallery after Berlin and London. 'We like to do things a bit differently, and with all the problems in Hong Kong and this superb location, it was an easy decision to make.' Although he has only been to Tokyo two times – this trip included – König says he already feels a strong connection with the city. 'It reminds me of how Germany used to be. With all its precision, politeness and things just working like clockwork.' He even confesses feeling a bit depressed after his first visit. '[The artist] Friedrich Kunath called me and asked how I was doing and I said, "Not too well." He told me he always also feels a bit depressed after a trip to Tokyo.' Or maybe they were both just feeling a bit homesick?
INFORMATION
'Heimweh', until 11 January 2020, König Tokio. koeniggalerie.com (opens in new tab)
ADDRESS
König Tokio
MCM Ginza Haus 1
Jujiya Building 3-5-4 Ginza
Chuo-ku 105-0061
Tokyo
VIEW GOOGLE MAPS (opens in new tab)