John Booth's vibrant ceramic urns put death in a new light
In a colourful new series of ceramic funeral urns, British artist John Booth and UK company Farewill aim to redesign perceptions of death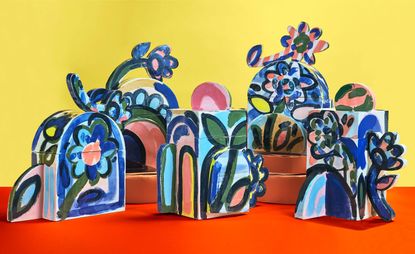 (Image credit: courtesy of Farewill)
t's never an easy subject to broach. When it does come, the event is often shrouded in formality, tradition and more often than not, the colour black. But pioneering ceramic artist John Booth is proposing an alternative to the sombre perceptions of death. The artist has teamed up with UK death specialist Farewill for 'A Colourful Life', a new campaign that aims to reflect the vibrancy of life through five limited-edition bespoke ceramic cremation urns. This was uncharted territory for the artist, who has previously deployed his graphic, multi-layered aesthetic in the worlds of high fashion and interiors, including in collaborations with Zandra Rhodes, John Galliano and Fendi.
We spoke to Booth about the gravity of the project, and how creativity, colour and death can find a way to coexist.
Wallpaper*: How did your collaboration with Farewill come about, and what drew you to the idea of a limited-edition set of bespoke urns?
John Booth: Working with Farewill has been a unique opportunity, with lots of potential to make a mark on how people perceive death, something that will affect all of us at some point. I was really inspired to create something in an industry traditionally void of creativity and choice. Many people choose an urn as their final resting place, but we rarely talk about how they can help us express who we are. After the year we've had, it's more important than ever to bring some joy to how we're remembered, creating urns that reflect the vibrancy of our lives.
The Farewill team approached me with the concept and I found the proposition of the project to be really intriguing, especially in the context of the pandemic. I usually work on high fashion and interiors and this brief took me into a completely new space, which I loved. This year has completely changed the way I think about and now deal with death, which was a huge factor in my decision to work with the brand. What also stood out to me was Farewill's modern and accessible approach to the death industry.
W*: Can you talk us through the process of creating the urns?
JB: I approached this campaign with a sense of joy, playfulness and use of bold colour and graphic shapes. When I started drawing, I wanted to keep the shape really clean and graphic because that's typical of my work. The thought that the urns are going to hold a person's ashes is a thought that's stuck with me throughout the project, but I've been trying not to let that scare me off, and create a monument to the person that they'll eventually hold.
I've also created sections to accommodate dried flowers in each urn. That's something I've used before, but it felt right to use this technique for this project given the subject matter. It also gives a nice nod to traditional send-offs, while doing something a little different.
W*: Why do you think it's important to talk about and plan for death more openly?
JB: Much of the death industry feels archaic and there hasn't been a huge amount of innovation for a really long time. This doesn't make sense to me, as our lives are so varied and full of colour, we should pay tribute to our loved ones and ourselves after we die. It's also something that will happen to us all at one point – while it will never be easy, it's important that we make death more approachable, and a great way to do that is by talking about it through art and creativity.
Art has often been a way for people to express their emotions or talk about difficult subjects. Hopefully, this project can make other artists think about approaching this object because it is such an important monument to the person it will hold. It's a shame that it hasn't been explored more.
W*: What was the most challenging part of the collaboration, and the most rewarding?
JB: Aesthetically these urns could be quite challenging, which was my main concern at the start of the project. They're not traditionally in keeping with the type of urns that I've seen before. After speaking more with the Farewill team, I realised that was really the point of what they're doing.
One of the reasons I'm enjoying the project so much is because it's taken me into a completely new realm, and made me consider something that, to be honest, I hadn't previously thought a lot about. From my point of view as an artist, it's really interesting to have a completely new subject matter to work with. It's important to keep working with fresh ideas to keep creating.
INFORMATION
John Booth has created a set of unique urns for UK death specialists Farewill. The new campaign 'A Colourful Life' explores how to honour someone's life and encourages people to talk about what we want when we die. Urns can be applied for on the Farewill website.
Harriet Lloyd-Smith is the Arts Editor of Wallpaper*, responsible for the art pages across digital and print, including profiles, exhibition reviews, and contemporary art collaborations. She started at Wallpaper* in 2017 and has written for leading contemporary art publications, auction houses and arts charities, and lectured on review writing and art journalism. When she's not writing about art, she's making her own.