The exuberantly illustrated world of John Booth pops up in Mayfair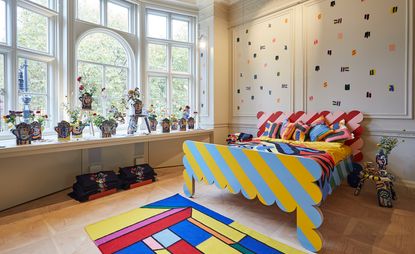 (Image credit: Matchesfashion.com)
John Booth is as cheerful and optimistic as his art. Sitting outside his east London studio, flicking through a scrapbook bulging with sketches and designs, it's clear that the irrepressible energy of his work is an extension of Cumbrian-born Booth's personality. The pages almost vibrate with colour. Splitting his practice between illustration, textile design and ceramics, the 34-year-old's expressive style is instantly familiar, already lending its painterly clout to collaborations with Fendi, Globe-Trotter and Scottish weavers Begg & Co.

And driven by the search for exciting new surfaces to decorate, these creative partnerships have recently explored furniture and object design too. 'But whether it's a vase, or print or something to wear, I always want it to connect back to my drawing,' explains Booth. 'Everything I do is based on drawing.'
Internships at John Galliano and Zandra Rhodes while he studied Fashion Print at Central Saint Martins, and a first proper job with Ashish – 'the sequins guy' – fit perfectly given those designers' eclectic tendencies and Booth's boldness.

Fashion remains a constant. It brings the spontaneity of his prints to life on the catwalk and even creeps into his ceramic work. A shelf of figurines, waiting to be fired, feature illustrations that could double as outfit ideas.
'I'd love to design knitwear next,' he says, picking at clay splatters on his Raf Simons trainers. 'Today I look crap because everything gets ruined in the studio, but I've always collected clothes.'

Fashion also showcases how scalable Booth's style is – from a Fendi keyring up to the hand-painted boiler suit musician friend Alexis Taylor wears on tour.
'In Bed With John Booth', an immersive exhibition inspired by Booth's dream teenage bedroom, created with independent arts organisation Studio Voltaire for the new MatchesFashion.com space in Mayfair, 5 Carlos Place, puts this versatility to the test. 'I am showing work,' he says. 'But it's like Keith Haring's Pop Shops, everything's for sale, from badges to double beds.'

The room is on view until 17 November, and is furnished exclusively with products and editions by John Booth. These include the aforementioned hand-painted bed, built by Uncommon Projects, and a table with matching cups designed with studio-mate Ian McIntyre.

All that matters to Booth is that there's something for everyone. 'I don't want it to be too classy,' he says. 'My work isn't conceptual, and I'm not an artist's artist. I'd rather someone's mum bought something of mine than someone highbrow.'
INFORMATION
'In Bed with John Booth' is on view until 17 November. For more information visit the Matchesfashion.com website (opens in new tab)