Capitalist chaos: a major survey of Jason Rhoades takes Los Angeles by storm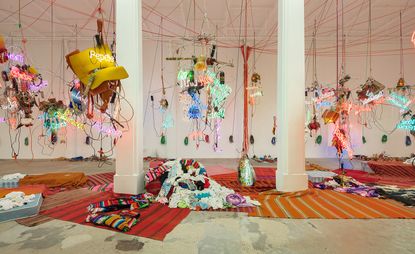 (Image credit: Fredrik Nilsen)
Not many artists can fill 28,000 square feet of gallery space with just six works.

This week the late great Jason Rhoades has done that, with his largest ever exhibition in his hometown of Los Angeles, recently opened at Hauser Wirth & Schimmel. A survey of this kind on Rhoades – who died in 2006, aged 41 – has been in order in LA for some time.
Rhoades was a graduate of UCLA, where his professors included Paul McCarthy and Chris Burden, and he continued to live and work in the city his whole life; but it's only now that curator Paul Schimmel has traced the trajectory of Rhoades' career in its Californian context. The six installations span two decades, and have been carefully selected to summarise the artist's interests and the subjects that preoccupied his practice: sex, politics, religion, art, race and gender.

The nineties works – Swedish Erotic and Fiero Parts, (1994), My Brother/Brancuzi, (1995), The Creation Myth (1998) – give a strong overview of Rhoades experimentation from early on, and his innovative way of visualising the new, technology and consumer driven, networked way of thinking. His mass assemblages of this era are materially synaptic, perhaps most in My Brother/Brancuzi, a work created for the Whitney Biennial in 2005, that leaps from his brother's suburban bedroom to modernism through piles and piles of stuff.
The later works, right up to his last – Tijuananatanjierchandelier (2006) – tug you towards another issue: the search for the 'ultimate pussy word'. Of course, behind the puerile pursuit in neon lights, Rhoades points to the way language and culture, in a transnational era, condition our thoughts about gender and sexuality.

There is also comfort in Rhoades' capitalist chaos: the irresistible warmth and light that emanates from his materials and embraces you. In their unabashed, at times brash, maximalism, unapologetic in their physical scale, Rhoades didn't see any of his works as complete — but in this exhibition, they take you on a journey.
INFORMATION
'Jason Rhoades: Installations, 1994–2006' is on view until 21 May. For more information visit the Hauser & Wirth website (opens in new tab)
ADDRESS
Hauser Wirth & Schimmel
901 E 3rd St
Los Angeles, CA 90013
VIEW GOOGLE MAPS (opens in new tab)
Charlotte Jansen is a journalist and the author of two books on photography, Girl on Girl (2017) and Photography Now (2021). She is commissioning editor at Elephant magazine and has written on contemporary art and culture for The Guardian, the Financial Times, ELLE, the British Journal of Photography, Frieze and Artsy. Jansen is also presenter of Dior Talks podcast series, The Female Gaze.