Beetles and bodies: Jan Fabre takes his universe to Ronchini Gallery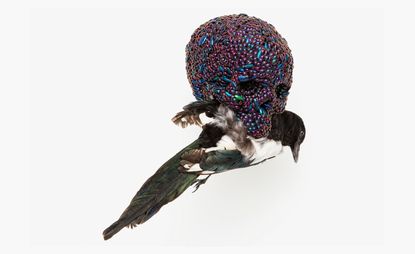 (Image credit: Claudio Abate)
'I'm sort of a servant of beauty', says Jan Fabre, looking around the Ronchini Gallery in Mayfair. He's taking in the selection of works that form his solo exhibition 'Knight of the Night' – works, he says with a wondrous expression, he hasn't seen in about 20 years.

The Belgian artist is a multi-disciplinary thinker who chooses the most fitting medium for the idea he has in mind. The suits of armor and skulls made of thousands of iridescent wing-cases of scarab beetles; the taxidermied magpie and rusty keys that add weighty symbolism to them; the Lancelot performance in which he battles himself with pathos; the introspective diary entries that touch upon zealous knightly fantasies; and the Bic ballpoint pen drawings. All these are different guises of Fabre's unrelenting probing of what he terms 'the body as object and subject'.

They are also worldly reminders of death. Strongly influenced by his great grandfather Jean-Henri Fabre, a 19th century entomologist, Fabre's oeuvre is steeped in notions of the human and animal body, of death and metamorphosis. 'We have an internal skeleton, while the scarab's skeleton is external,' he explains. 'Those works were about creating a new skin, a new armour, a kind of protection. My universe is devoid of cynicism,' he continues. 'It articulates hope and the defense of the vulnerable.'

Though Fabre insists he's a provincial artist – 'I'm a dwarf in a land of giants,' he states with an apt sense of theatricality – his themes are universal. His hometown Antwerp's great history of Flemish Masters, from which he proclaims to steal, is the foundation of an imagery that borrows precisely those memento mori elements that are intuitively understood.
INFORMATION
'Jan Fabre: Knight of the Night' is on view until 19 March. For more information, visit the Ronchini Gallery's website
Photography courtesy the artist and Ronchini Gallery
ADDRESS
Ronchini Gallery
22 Dering Street
London, W1S 1AN