Iván Navarro's cosmic sculptures illuminate dark forces
The Chilean-born artist uses celestial landscapes to explore the darker sides of social and political life for his latest exhibition at Galerie Templon in Paris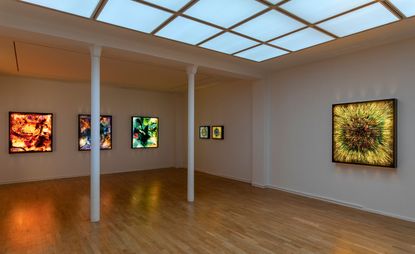 (Image credit: Iván Navarro')
Iván Navarro is having quite a moment in the City of Lights. The New York-based Chilean artist has just opened two new shows: a retrospective at the Centquatre, and a show of radical new works at Galerie Templon.

Navarro was born in Santiago, Chile, and spent his childhood under the Pinochet dictatorship before migrating to New York in 1997.

'When I was in my late 20s I realised how influenced I was by the things I experienced during my childhood,' Navarro explains. 'So many aspects of daily life were manifestations of living under the control of a dictatorial regime: how to dress up, what music to listen, what friends to hang out with, what neighborhood to go to, how much to tell about your family to a new friend and vice versa. Now I also see and understand those experiences as tools to make me more aware of the society I live in today, which is completely controlled by capitalism.
These experiences have had a deeply profound impact on the artist's work over the last two decades. Under the these electric games of mirrors and light, lurk some of the darkest themes of the era: control, political propaganda, torture and north-south inequalities.

Using light as his raw material, Navarro draws on the structures of word play, music, minimalism, American design and architecture to address socio-political issues and alter perceptions.
In a new series exhibited at Templon, Navarro turns his attention to cosmic landscapes. 'I collected images of different nebulae, many photos taken by powerful telescopes all over the world. These images are visions of the space where stars are born', he explains.

Within these pieces: constellations, nebulae and eclipses, Navarro draws connections between the immense abstraction of the universe and the human drive for power, domination and survival. Here, sublimeness and threat seem to coexist: themes of violence trapped beneath dazzling optical explosions.

The exhibition also marks uncharted territory for the artist: painting. Vivid lashings of paint are splashed on engraved one-way mirrors and illuminated by LED lights to channel celestial phenomena. Elsewhere, an ever-looping kinetic sculpture simulates the movement of an eclipse. This new approach, with an emphasis on the handmade, creates tensions between the machine and the fragility of the human hand.
Planetarium's three-dimensional paintings were created by Navarro during the pandemic, a time during which the artist has returned to handmade production in his studio in Brooklyn, New York.

'I try to constantly reconnect with the essence of my work; I still find myself picking up objects in the street to make sculptures, which is how I started making art in NY, recycling discarded fluorescent lights I found in the garbage. Now, since I have been more restricted to work with different fabricators and only inside my studio, I decided to do as much as possible with my own hands.'
Though celestial in appearance, his artworks are always anchored in the everyday, in the lived experience of people. 'I believe in art that is a genuine response to human activities. For example, for me any survival strategy - ingenious, inventive resourcefulness - is in itself a form of art, that is my deepest source of inspiration.'
'Art is a way to subvert reality, and that can take you in different directions whether escapism or confrontation or both.
INFORMATION
View Iván Navarro's Planetarium exhibition via Galerie Templon's online viewing room. viewingroom.templon.com (opens in new tab)
Harriet Lloyd-Smith is the Arts Editor of Wallpaper*, responsible for the art pages across digital and print, including profiles, exhibition reviews, and contemporary art collaborations. She started at Wallpaper* in 2017 and has written for leading contemporary art publications, auction houses and arts charities, and lectured on review writing and art journalism. When she's not writing about art, she's making her own.