Illustrator Noma Bar strives to 'Cut the Conflict' with a new exhibition in London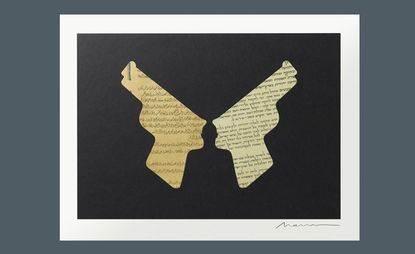 (Image credit: Rook & Raven Gallery)
Illustrator Noma Bar first unveiled his 'Cut It Out Machine' back in 2011: a giant dog-shaped black fibreglass contraption, which can be fed various materials through its mouth and creates his distinctive double-take imagery. Having chewed its way around a slew of galleries in London, Bar is letting his die-cutting canine off the leash for a new exhibition at Fitzrovia's Rook & Raven Gallery, opening on 22 November. This time around, however, the artist has incorporated used items like maps, flags, photos and posters supplied to him by people from warring nations, which he has then mounted into a unified image.

For the Israeli-born artist, who served in his native country's navy for three years, this show is more personal than ever before. 'The concept of "Cut the Conflict" came after a great conversation with a London-based Iranian guy, a conversation that could never happen if we both lived in our own countries,' explains Bar. 'I had one main rule – that each piece would contain materials from only two countries in conflict, i.e. North Korea and South Korea or India and Pakistan, for example.'

The illustrator created thirteen new compositions, transforming images of war into motifs of peace. Says Bar: 'I've always been fascinated by the stories that icons and symbols tell, and in this case I'm using the iconography of war (and peace) to tell numerous stories.' One stencil, for example, features a gun that doubles as a dove; another, a soldier with a heart shape formed in the crook of his arm as he hoists his weapon.

The artist posted his initial 'call for entries' online, as well as approaching people he knew. Bar was overwhelmed by the scope and depth of the response. 'For people in some countries, sending materials to a project like this is a risky thing,' explains the artist. 'By submitting such materials, people were essentially demonstrating that they were willing to take a risk, in order to contribute and put their name to my peace project. I guess what I really want to achieve is a series of metaphorical handshakes between conflicted countries, to show that dialogue can happen, that there's hope beyond conflict.' Bar's symbolic gesture of unity is certainly one peace treaty we can agree on.
The artist with his canine-shaped 'Cut It Out' machine, which is encased in a black polished fibreglass jacket inspired by Bar's iconic 'SML' artwork. Interchangeable die cuts sit within the dog's mouth and can cut a wide selection of materials including paper, plastic, wood, rubber and aluminium into Bar's distinctive double-take imagery
ADDRESS
Rook & Raven Gallery
7 Rathbone Place
London W1T 1HN
Receive our daily digest of inspiration, escapism and design stories from around the world direct to your inbox