Feminist art: a graphic history
A new graphic novel, The Women Who Changed Art Forever, by Valentina Grande and Eva Rosetti, tells the story of feminist art through four pioneers: Judy Chicago, Faith Ringgold, Ana Mendieta and the Guerrilla Girls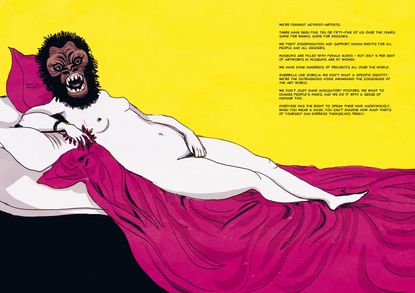 (Image credit: press)
In 1971, American feminist art historian Linda Nochlin asked, 'Why Have There Been No Great Women Artists'? The issue, she wrote in her essay, 'lies not in our stars, our hormones, our menstrual cycles, or our empty internal spaces, but in our institutions and our education'. There had been great women artists, they had just been denied the opportunity of greatness.
A new graphic art book, The Women Who Changed Art Forever, tells the story of four trailblazers of feminist art: Judy Chicago, Faith Ringgold, Ana Mendieta and the Guerrilla Girls.
Beyond style, era or approach, feminist art was defined by a set of values, those which criticised sexist and racist institutions, strove for equality, and championed a revolution in the perception of women's creativity.
Though it didn't gain momentum until the mid-20th century, feminist art has its roots in the late 1900s and 1920s when women were offered the right to vote in the UK and America. As liberation began sweeping across the world, the first wave of feminist art was born. Women began asserting their position behind the canvas, instead of posing as objects of pleasure in front of it.
But during this time – with a few key exceptions, including Frida Kahlo – the majority of woman-made artwork did not portray 'feminist' themes, and many female artists struggled to 'de-gender' their work and find a seat at the male-dominated art table.
This all changed in the 1960s and 1970s with the second wave of feminist art. Progressive ideas emerged as society came to terms with a new ideology that placed value on the role of women in art. Instead of objects of the male gaze, women's bodies could be tools to challenge the patriarchy.
Within the book – created by Valentina Grande and Eva Rosetti and published by Laurence King – each artist featured represents one of the four pillars of the movement. Judy Chicago – the artist behind The Dinner Party (1979), widely deemed the first epic feminist artwork – made us reassess the female body, sexuality and championed a new wave of female empowerment.
Faith Ringgold, known for vibrant quilts confronting everyday racism, taught us that feminism should be universally accessible. Through performative works, Ana Mendieta used her body to confront violence against women, while anonymous art collective Guerrilla Girls continues to challenge male-dominated institutions through provocative, often public interventions.
The fight for equality is a long road and one that the world continues to navigate. The Women Who Changed Art Forever narrates this unfinished story with an accessible and vibrant approach, told through the art of four pioneers that tirelessly paved, and continue to pave, the way to a more equal art world.
INFORMATION
The Women Who Changed Art Forever: Feminist Art – The Graphic Novel, by Valentina Grande and Eva Rosetti, published by Laurence King, £14.99, hardback, available from 26 August 2021, laurenceking.com (opens in new tab)
Harriet Lloyd-Smith is the Arts Editor of Wallpaper*, responsible for the art pages across digital and print, including profiles, exhibition reviews, and contemporary art collaborations. She started at Wallpaper* in 2017 and has written for leading contemporary art publications, auction houses and arts charities, and lectured on review writing and art journalism. When she's not writing about art, she's making her own.