Jean-Philippe Delhomme's new murals for Carlyle & Co are fairytales of New York
In his murals for Hong Kong's soon-to-open members' club Carlyle & Co, the French artist takes New York's iconic Carlyle Hotel as his muse. We go behind the scenes in Delhomme's Paris studio to watch the works unfold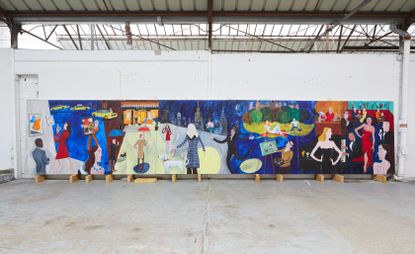 (Image credit: Alexis Raimbault )
If the last year has taught us anything, it's the power of human connection. And while we've been deprived of revelry, community and physical contact, there are signs that the world may soon emerge from hibernation.
For Paris-based fashion illustrator, painter and cultural writer Jean-Philippe Delhomme, it was a human connection that inspired his new mural for Carlyle & Co, one that spanned half a century.
Over the years, the artist made frequent pilgrimages to Bemelmans Bar (named after Austrian-born American writer and illustrator Ludwig Bemelmans, whose murals adorn its walls) in New York's iconic Carlyle Hotel. 'I've always felt a certain affinity with Bemelmans, in the way he was painting and writing, travelling, and a sense of humour and fantasy which appealed to me,' Delhomme tells Wallpaper*. 'I was very happy to have the occasion to follow in his tracks more than half a century later, and in another part of the world.'
Set to launch early this summer, Carlyle & Co is the much-anticipated private members' club sited at Hong Kong's Victoria Dockside art and design district. The club was the brainchild of Sonia Cheng, CEO of Rosewood Hotel Group, and draws on the timeless opulence of the New York location from which it takes its name. Carlyle & Co seeks to build on the hotel's legacy for a contemporary crowd.
The club will occupy 25,000 sq ft across three main levels, catering for the needs of every member, mood and occasion. It includes standalone dining and bar concepts, a music room, a library, a reading room, a wine cellar, a living room, a private barber, a tailor, among other trimmings. For the interiors, the club enlisted British interior designer Ilse Crawford. 'We designed carefully to elevate every activity, whether it's a drink or a dinner, a meeting with your tailor or an evening debate,' Crawford says of her vision. 'It is the sense that magic can happen anywhere, at any time of the day.'
The jewel in Carlyle & Co's crown will be its own incarnation of Café Carlyle, which will host genre-spanning live music performances: think everything from smoky jazz to sumptuous soul and flamboyant cabaret. It's here that Delhomme will stage two murals, New York Shuffle, and You, the Night, and the Music. 'I thought of it first as an evocation of a fantasy, a classic New York City, which I always like and always made me dream,' he says of New York Shuffle, his main mural for the location. 'I thought it would be amusing for the mural to also be a tribute to Bemelmans, and I painted my own version, inspired by some of his characters: rabbits and dogs and even an elephant, dressed up to our contemporary standards, like a dog jogging with his ear pods.'
Delhomme never works with an assistant; he likes to retain the spontaneity and keep the painting 'alive' instead of 'simply reproducing the sketches'. The artist began with gouache sketches on paper. Three months later, the murals were complete, comprising two 10m x 1.9m paintings. 'It's very important that in a painting, each area is alive and expressive to convey its own energy,' he says.
'It's very important that in a painting, each area is alive and expressive to convey its own energy'
New York Shuffle reads like an anthology of stories, with 'subtle winks' to Bemelmans. 'Most of the figures are imagined, like the musicians, the people in the bar, or in the street, in front of The Carlyle, or a woman reading a book by the lake in Central Park,' Delhomme explains. But some of the characters are discernable; figures of The Carlyle's past. There's Tommy Rowles, beloved Bemelmans Bar bartender for 53 years, American cabaret musician Bobby Short manning the piano, and Eartha Kitt singing. In a personal tribute, Delhomme has included a portrait of Ludwig Bemelmans himself, painting en plein air. The image is inspired by Bemelmans' travels through France in the early 1960s, when he drove a car that also served as his mobile studio.
At Carlyle & Co, the art won't end there. It does, after all, flow through the veins of the club's heritage. Pass through the velvet curtains of the club and you'll come face to face with a private collection of contemporary paintings, sculptures and commissioned works, including more murals staged in the lobby and sitting room, this time by Australian-born, New York-based illustrator Christina Zimpel. The club will be furnished with midcentury and contemporary design pieces, including chairs by the likes of Angelo Mangiarotti, Mario Bellini and Poul Kjaerholm, a chandelier by Piet Hein Eek and Studioilse's stools for Artifort and tables and consoles for Zanat.
Delhomme's murals are mirrors on The Carlyle's fabled legacy: the stuff of films, with all its gleaming elegance, iconic design, a compendium of claims to fame and anecdotes of merrymaking. The works epitomise a variety of life that has, in recent times, been temporarily shelved.
How does Delhomme hope future Carlyle & Co members will respond to his work? He hopes it will start conversations, and that all those who encounter it 'feel the energy and humour that I tried to convey while painting it, and that this will bring them a smile'.
INFORMATION
Membership applications for Carlyle & Co, due to open in early summer 2021, are now open. carlyleandco.com
Harriet Lloyd-Smith is the Arts Editor of Wallpaper*, responsible for the art pages across digital and print, including profiles, exhibition reviews, and contemporary art collaborations. She started at Wallpaper* in 2017 and has written for leading contemporary art publications, auction houses and arts charities, and lectured on review writing and art journalism. When she's not writing about art, she's making her own.
With contributions from