Huw Lemmey navigates sex, politics and espionage in new film
Ungentle is a fictional journey through 20th-century Britain, exploring the relationship between espionage and male homosexuality. A collaboration between Huw Lemmey and Onyeka Igwe, the film is on view at London's Studio Voltaire in September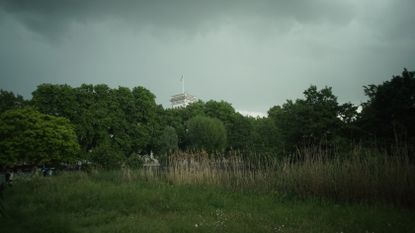 (Image credit: Morgan K. Spencer)
Next month, Studio Voltaire will present Ungentle, a 16mm film based on a new script by Huw Lemmey, co-directed with artist and researcher Onyeka Igwe. The project will be a visual journey through history-laden British landscapes, narrated by an imagined auteur whose fraught position as both a spy and a gay man in the mid-20th century is troubled by sex, secrecy, politics, and imperialism.
Lemmey is an unapologetic writer who often blends satire, politics, and sexuality in his fiction and essays. But he's perhaps best known for co-hosting Bad Gays, the hugely popular podcast series that subverts the notion of gay icons and queer heroes. We spoke to Lemmey during his final week of filming Ungentle, to hear more about this first institutional project and its fascinating source material.
Wallpaper*: Ungentle will explore the complex relationship between British espionage and male homosexuality. How did you come to discover their unlikely common ground?
Huw Lemmey: I was writing an essay a few years ago about Grindr as a form of surveillance and its relationship with the police, so in the process, I went to what was then Scotland Yard. Walking around that area, I was thinking a lot about the nature of self-surveillance and the presence of queer people, gay men especially, in the city. I also read a lot about St James's Park, its policing, and how it functioned as a cruising ground. All of these really intense stories emerged of various people who were caught there or lived nearby. It sort of captured that sense of paranoia in the 20th century, in terms of espionage and geopolitics, and in terms of gay men's lives, and how they interacted.
W*: Did these narratives move you towards the medium of film?
HL: One of the reasons why I wanted to make a film rather than just write a book is to capture the shared skillset and subjectivity that homosexuals and spies had at the time. From very obvious things, like codes and leading a double life, to this idea of double subjectivity within certain branches of the Secret Service. [Members of the Secret Service] are in some way a class apart, engaging in all sorts of behaviours that are not strictly gentlemanly but a necessary evil to protect the country.
W*: Is that what inspired the film's title, Ungentle?
HL: Well, it's derived from the Ministry of Ungentlemanly Warfare, or Special Operations Executive [SOE, a secret organisation in Britain during the Second World War]. The film is a lot about these warrior codes, almost a code of ethics where they saw themselves as being able, entitled or benighted to commit gentlemanly behaviours.
For example, I came across this story of a Tory MP who was caught in St James's Park having sex with a 19-year-old guardsman on a cold winter night. He resigned of course, but he was also very insistent he'd pay the fine of his companion as he was from a different class position. When Winston Churchill was asked for comment he said, 'On the coldest night of the year? Makes you proud to be British.' You see this quite a lot; strange indifferences or attempts to maintain a sort of dignity and honour within these ungentlemanly practices.
W*: A lot of your research revolves around the Cambridge Five 'traitors', such as Anthony Blunt and Guy Burgess, who passed on information to the Soviet Union during the Second World War. What makes their stories so compelling?
HL: It was the intersection of a few things: one of which was this sincere ideological belief in the Communist project, which to a degree was motivated by a hope for sexual liberation and frustration with the old bourgeois political system, which they saw as very repressive towards their sexual identities.
Secondly, their stories indicate why there's such a strong tie between homosexuals and espionage in Britain. None of them were given background checks and recruitment was basically done on trust and word of mouth. It flowed almost entirely along the lines of the British class system, which is fascinating because that's obviously incredibly sloppy spycraft. It also loaned itself massively to the recruitment of homosexuals; people with a sense of adventure, not necessarily tied down to a family, and willing to engage in illicit underworlds.
W*: Depicting the tension between British landscapes and queer history will be integral to the film. Can you tell us about your personal connection to the film's locations?
HL: Both of my grandparents on my dad's side were in SOE, so I was always very aware of that shadow of war growing up. One of the places we included is Beaulieu, a country house in Hampshire that the SOE used as a training school during the war. I think my grandmother was there, and in fact [after the war] she'd go frequently for events and the unveiling of a plaque commemorating SOE members who had given their lives.
So, I knew of the estate and surrounding landscape through her, but also because it's the home of Lord Montagu, who was arrested for having sex at a party on his land with journalist Peter Wildeblood, two RAF officers, and [landowner] Michael Pitt-Rivers. Wildeblood, being a very interesting figure in this, used it as a stepping stone to write Against the Law, one of the first defences of gay rights in English. He was also the only named homosexual witness of the Wolfenden Inquiry, the report of which led to partial decriminalisation in 1967.
It's very nice to go there and explore the estate as a site that's so incredibly traditionally English, and knowing it's haunted by this very intense sexual energy. Actually, anywhere you go in England is absolutely soaked through, not just with colonialism, but also with these homosexual and queer histories. The film will hopefully create a tension between these stories and the idea that England just continues undisturbed.
INFORMATION
Ungentle, by Huw Lemmey in collaboration with Onyeka Igwe, 16 September – 31 December 2022 at Studio Voltaire, London, studiovoltaire.org