Hugh Hayden's multimedia exhibition serves food for thought
A virtual tour of the Texan artist's latest exhibition at Lisson Gallery, which ties together African histories and the American South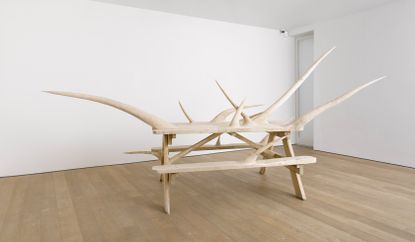 (Image credit: Hugh Hayden, Lisson Gallery)
Hugh Hayden has a lot to offer the new decade. A few weeks after the opening of his solo exhibition 'Creation Myths' in New Jersey, the Texas-born and New York-based artist has unveiled another new show, capturing the symbolism of cooking and communal eating in America.

Held in London's Lisson Gallery, 'American Food' comprises a range of culinary-themed installations, which invite visitors to 'develop a consciousness of their environment' while challenging their perceptions of contemporary society.
These themes are laid out in the first installation, a multimedia 'stove' with speakers in place of hobs, playing a recording of Hayden cooking and eating bacon, a fundamental ingredient of Southern food. The soundtrack offers both an intimate culinary moment with the artist, and an evocative backdrop to Hayden's exploration of Southern culture and its spread across America.
Explore Hugh Hayden's exhibition in 360°
Courtesy of GalleriesNow
The next space is lined with a series of 'skillets', West African-style masks cast in frying pans, an intelligent commentary on African input in the development of Southern cuisine. This work also alludes to the paradoxical combination of old and new: each mask assumes a new character that the artist has created and abstracted through old sand-casting techniques.
RELATED STORY
'Twig 450' table, £1,320, by Russell Pinch, for Pinch. 'Ombra' dessert plate in Ardesia, £31, by Laboratorio Castello, from The Conran Shop. Entertaining Director: Melina Keays Interiors: Jacqui Scalamera
The exhibition continues with two mosaic-like wall installations using Jiffy corn muffin mix packaging. Jiffy is one of America's most popular brands of readymade cornbread, a food closely identified with Southern cuisine. 'I always thought most cornbreads that I had, growing up in Dallas, were fairly dry and just not my thing' he admits. He's since set out to reinvent the dish: following 'internet sleuthing and weekly recipe trials', he arrived at a cornbread pudding recipe for Wallpaper's Artist's Palate series, which can now be found on the back page of our April issue (W*253, available as a free download here).
In his Lisson show, Hayden also presents a new series of three picnic tables – similar to those seen outside pubs in the UK – enhanced by jutting branches and spikes that are at once threatening and playful. The tables are intricately carved from Hornbeam and Chestnut. The artist has kept each branch largely as it would have grown. These striking installations use wood as a metaphor for identity and boundaries and bring the artist's architectural background and deep interest in history to the fore.
INFORMATION
'American Food', opened at Lisson Gallery, London on 12 March. It is temporarily closed to the public. lissongallery.com