Feminist or fetishist? A Helmut Newton retrospective arrives at FOAM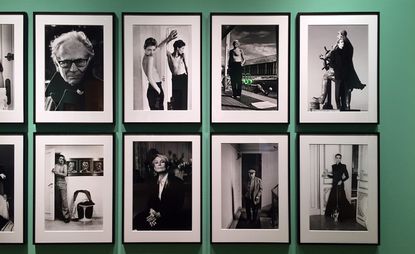 (Image credit: Helmut Newton)
From now until September, Fotografiemuseum Amsterdam (FOAM) is dedicating its entire building to the late photography legend Helmut Newton. 'Helmut Newton: A Retrospective' comprises more than 200 works, ranging from early prints to monumental photos from the rich, authentic and complex oeuvre that illustrates the life of one of the 20th century's most celebrated masters of the art.

TIME named him 'The King of Kink', feminists called him 'an exploiter of women'. The German-Jewish photographer himself joked that he was a pornographer. Women are the core of Newton's creations; often provocatively feminine and invariably scantily clothed – which makes his works easy on the eye, but viewers are often distracted from appreciating their complexity and implications.

Newton's images are overwhelmingly about fashion photography, portraiture and nudity, and though he always worked on a commission basis, in a sense he was a social commentator on his era. 'He had an intuition about the fundamental changes in society and the relationship between men and women, the power structure, feminism and sexual liberation; and he worked with it – not literally, but he transformed these givens into his own visual vocabulary,' says Marcel Feil, deputy director of artistic affairs at FOAM.

Works are shown by genre in the colour-coded rooms of the Amsterdam canal house. Entering the show, one finds a selection of Newton's 1960s studio works for Vogue, which marked the take-off of his fame; next is a mysterious world of exhibitionism and fetishism, where one experiences the tension between the two sexes. Iconic works made in the 1970s, like Yves Saint Laurent for French Vogue (1975), Bergström over Paris (1976) and Saddle I, Paris (at the Hotel Lancaster) (1976), plus some of the best celebrity portraitures from the 1980s, are seen on the upper floor, ending with the prodigious life-size Big Nudes and Naked and Dressed (1981).

'Everything is a little slice of life, every picture is based on reality, I have no feverish imagination. It's all real and it happens every day,' Newton said in Helmut by June, a film on show made by his wife June Newton (AKA Alice Springs) in 1995.

In contemplating the relevance of such a body of works today, the museum was also influenced by the current state of society. Feil says, 'We are experiencing a new wave ­of emancipation – there are a lot of online activists and advocates for women – so it is an important time to start this conversation with the show. If Newton was a child of his time, what does our time tell us about this power game, equal rights and sexual morals? Is it a time of new prudishness? Is it a very hypocritical time? Because on one hand people can find everything online, pornography or perversity, and yet a nipple on Instagram will get your account blocked.'

Newton once said, 'I love the word "powerful"; I always like strong woman because I feel secure.' What is the representation of women in the digital era? Where are women standing now, in both the commercial and artistic sense? What can we learn from Newton about the gender issue by looking at his images today? The answer is up to us, of course – the voyeurs.
INFORMATION
'Helmut Newton: A Retrospective' is on view until 4 September. For more information, visit the FOAM website
Photography courtesy FOAM
ADDRESS
Fotografiemuseum Amsterdam
Keizersgracht 609
1017 DS Amsterdam
Receive our daily digest of inspiration, escapism and design stories from around the world direct to your inbox
Yoko Choy is the China editor at Wallpaper* magazine, where she has contributed for over a decade. Her work has also been featured in numerous Chinese and international publications. As a creative and communications consultant, Yoko has worked with renowned institutions such as Art Basel and Beijing Design Week, as well as brands such as Hermès and Assouline. With dual bases in Hong Kong and Amsterdam, Yoko is an active participant in design awards judging panels and conferences, where she shares her mission of promoting cross-cultural exchange and translating insights from both the Eastern and Western worlds into a common creative language. Yoko is currently working on several exciting projects, including a sustainable lifestyle concept and a book on Chinese contemporary design.