Alpine lines: rare Otl Aicher prints reveal a graphic designer ahead of his time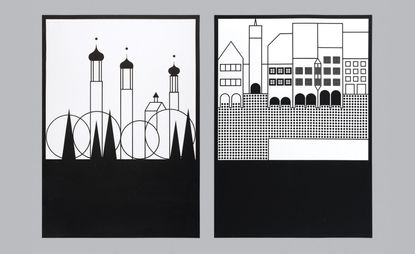 (Image credit: Otl Aicher)
For Patrick Eley, creative director of design studio dn&co, German graphic designer Otl Aicher has long been a source of inspiration. 'His work, particularly that of the Munich 1972 Olympics, is a design touchstone for us,' Eley explains. 'But his work for Isny im Allgäu is relatively little known.'

Forty years ago, the small town in southern Germany approached Aicher to create a graphic identity for its tourist board. The designer answered with a kit of 128 monochrome pictograms, in a project Eley considers to be miles ahead of its time.

And so Eley and his studio took a trip through southern Germany to blow the dust from the rare pictograms, uncovered from a 'treasure trove of an archive' for a new exhibition at the London Design Festival. The journey was, describes Eley, 'the epitome of a busman's holiday'. He was greeted by the generous hospitality of Aicher's son Florian, and the 'sweet beauty' of the town itself. Both were stops along the way to a greater understanding of the man and his vision.
Isny, surrounded by bucolic scenery – grazing cows and charming farm houses in the foothills of the Alps – has a village feel. Aicher distills this pastoral world into a series of square landscapes, reminiscent of Polaroids, with a concrete-toned urban edge. Steeples, hillsides, forests and a curled up fox are all rendered starkly, with 'an economy of line drawn with a mischievous twist'.

Despite their reductive aesthetic, they speak to Isny's atmosphere. 'Even driving into Isny, you realise the town feels familiar from Aicher's work – you recognise its landmarks and landscapes,' Eley offers. 'The pictures act as vignettes, or a graphic novel, telling a comprehensive story of the place.'

Much of the studio's own work concerns places and how to best represent them – something they were keen to express through this exhibition. 'It explores how the pictograms work on their own and in combination with one another. It's only when you see so much of the work in one place and in its original form, that you are able to appreciate the system Aicher created,' Eley explains. 'It's flexible, playful and endlessly energetic.'
Viewed against the backdrop of the London Design Festival's superfluity of far-reaching and futuristic works, Aicher's illustrative card system seems strikingly contemporary. 'He created a world that can be ordered and re-ordered; a system that can tell the changing stories of a place panel by panel, while remaining entirely recognisable and consistent' – like a physical version of a Pinterest or Instagram feed.

It's clever stuff. But Aicher's branding programme wasn't without controversy. About ten years after its introduction, there was an 'outcry' from people within the town, who felt they didn't identify with the black and white portrayal. 'Surrounding towns were all employing identical tourism campaigns — blue skies and the Apline ideal,' recalls Eley. 'The entire system was pulled in favour of something more generic.'

Little by little since the 1990s, the town has been reintroducing and reappreciating Aicher's forward-thinking work. 'Today, you really get a sense that it has been embraced once again,' says Eley. 'It backs up the universal truth that some of the best ideas are the ones that make us feel most uncomfortable at first.'
INFORMATION
'Otl Aicher: Isny' is on view until 24 September. For more information, visit the dn&co website (opens in new tab)
ADDRESS
Ground Floor Space
3 Tyers Gate
London SE1 3HX
VIEW GOOGLE MAPS (opens in new tab)
Elly Parsons is the Digital Editor of Wallpaper*, where she oversees Wallpaper.com and its social platforms. She has been with the brand since 2015 in various roles, spending time as digital writer – specialising in art, technology and contemporary culture – and as deputy digital editor. She was shortlisted for a PPA Award in 2017, has written extensively for many publications, and has contributed to three books. She is a guest lecturer in digital journalism at Goldsmiths University, London, where she also holds a masters degree in creative writing. Now, her main areas of expertise include content strategy, audience engagement, and social media.