Graham Sutherland show at Modern Art Oxford, UK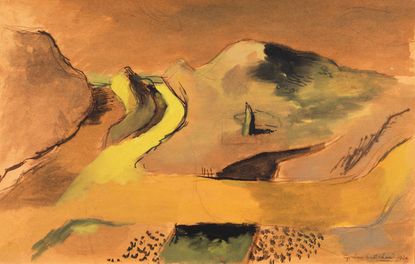 (Image credit: Graham Sutherland)
Wallpaper* Newsletter
Receive our daily digest of inspiration, escapism and design stories from around the world direct to your inbox
Thank you for signing up to Wallpaper. You will receive a verification email shortly.
There was a problem. Please refresh the page and try again.
He painted powerful scenes of bombed-out Swansea, Cardiff and East London, and gritty landscapes of quarries, mines and foundries as his role as official WWII artist, but today the late Graham Sutherland is still in the shadows of his friend and contemporary Francis Bacon. A show at Modern Art Oxford is hoping to change all this. Featuring more than 80 of Sutherland's landscapes of Pembrokeshire from the 1930s and the 1970s, the show is curated by 2011 Turner Prize nominee George Shaw.
It's a neat fit, as Shaw, who paints his home town of Coventry, is also a master of the bleak British landscape. Beyond that though, the idea came about 'after a really drunken night with the gallery director Michael Stanley two years ago,' says Shaw, who first came across Sutherland's 1950s tapestry 'Christ in Glory in the Tetramorph', in Coventry Cathedral as a boy. For him, Sutherland's Wales - an ancient place of setting suns, sacred stones, prehistoric figures and foreboding rock formations, and presented in the show in various phases of abstraction - 'sums up the artist's vision'.
Sutherland graduated from Goldsmiths School of Art with a degree in engraving and etching in 1925, and moved to Pembrokeshire in 1930 before becoming a war artist and travelling the UK to document its troubles. Surreal touches - Cezanne-like mountains, Monet-esque haystacks and Picasso-style symbols - appear in his work, and in 1949 Sutherland moved to the South of France where he spent 20 years painting Mediterranean landscapes.
'For me, Pembrokeshire is him; this is his work,' says Shaw, strolling enthusiastically through the gallery's four rooms, in which sketches and works-in-progress are also on show. 'I'm not that interested in finished things, in artists' grand gestures. Sutherland's studies are so full of life. He would get out of his Bentley, do a very quick sketch and take it - all in his mind - back to the studio.'
In contrast to his life of isolation in Wales, Sutherland was also a society man; in 1949, he painted Somerset Maugham, Lord Beaverbrook and Winston Churchill. So outré was the latter's portrait that it was burned by the family. 'In this respect, he was the Damien Hirst of his day,' says Shaw. 'His work was cutting edge and shocking to the point where it was destroyed. Yet people have never heard of him.'
Sutherland died in 1980 and many of the works in the show haven't seen the light of day since the 1960s. Adds Shaw: 'He's just not on the radar, yet he is totally contemporary. His paintings of war-torn east London could be Afghanistan today.'

ADDRESS
30 Pembroke Street
Oxford OX1 1BP
UK
Receive our daily digest of inspiration, escapism and design stories from around the world direct to your inbox
Emma O'Kelly is a contributing editor at Wallpaper*. She joined the magazine on issue 4 as news editor and since since then has worked in full and part time roles across many editorial departments. She is a freelance journalist based in London and works for a range of titles from Condé Nast Traveller to The Telegraph. She is currently working on a book about Scandinavian sauna culture and is renovating a mid century house in the Italian Lakes.