'Go to Hell or Atlanta, Whichever Comes First': Kara Walker's debut London show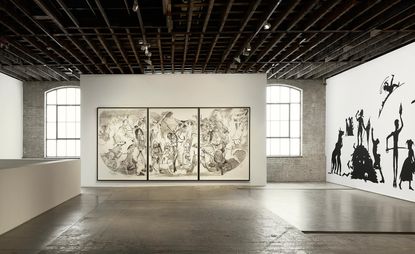 (Image credit: courtesy the artist and Victoria Miro, London)
The art of American artist Kara Walker, whose giant sugar sphinx became a surprise tourist draw last summer in New York, is not for the faint-hearted. But then, dealing with the black American experience, as Walker does, leaves little space for wry humour or fancy tickling.

In 'Go to Hell or Atlanta, Whichever Comes First (opens in new tab)', her first show at London's Victoria Miro gallery (opens in new tab), Walker has created a number of new site specific works, retelling America's nation-making with the most brutalising of race and gender relations as its modus operandi. There are no happy whistling cowboys here.

Walker's best known medium is the cut paper silhouette and here, with The Jubilant Martyrs of Obsolescence and Ruin, she creates a large tableau across an entire wall of the upper gallery. There are rearing horses everywhere and the noise of terrible violence.

In the Four Idioms on Negro Art series, Walker channels primitivism, folk styles and Basquiat. Here, sex is violence and cocks are weapons. Love seems in short supply.

Taking up another wall is The Stone Mountain Dr Martin Luther King referred to in his famous "I Have a Dream" speech of 1963 (with monument to the Confederacy completed in 1972), a large photograph (with a long title), shot by the photographer and filmmaker Ari Marcopoulos. Stone Mountain sits in a park outside Atlanta – Walker grew up nearby – and is the world's largest exposed granite monolith. It was also adopted as a spiritual home by the Ku Klux Klan and its surface has been scarred, blasted and carved into a bas-relief of the Confederate generals Robert E Lee, 'Stonewall Jackson' and president Jefferson Davis. Walker asks, ruling out Taliban-style removal, how to let such a thing stand. Will nature remove or obscure it – or history recast it?
INFORMATION
'Go to Hell or Atlanta, Whichever Comes First' is on view until 7 November
ADDRESS
Victoria Miro
16 Wharf Road
London, N1 7RW
VIEW GOOGLE MAPS (opens in new tab)