Gavin Turk and Patrick Eakin Young talk tulips, electro-folk opera and Brexit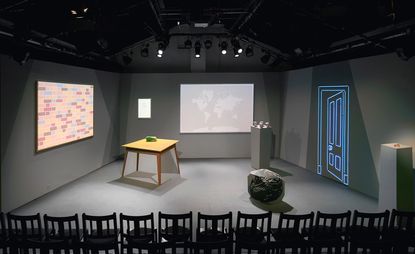 (Image credit: Live Stock Market)
Wisdom, wit and the right amount of weirdness are three things that come naturally to moustacheod artist Gavin Turk. The original YBA is known for his radical approach to contemporary sculpture, his vocal politics, and his talent for mimicry – in the halcyon days of the early 90s he impersonated everyone from punks to Pollock.

It's unsurprising then, that Turk finds himself friendly with similarly avant-guard creative minds. Enter experimental theatre director Patrick Eakin Young. Known for his contemporary operas – sometimes harrowing, othertimes hilarious – Eakin Young heads up London-based theatre company Erratica. The likely duo were 'pushed together by friends' back in 2014, when they joined forces on a three-part production, Triptych, to great critical acclaim. Turk's 'exhibition-like' set comprised theatrical recreations of his renowned trompe-l'oeil works, which doubled as props for the actors.

During a rehearsal of Eakin Yong's upcoming production Remnants, the two artmakers – and friends – met for a catch-up to a backdrop of rhapsodic opera singers and metronomic sound engineers.

Patrick Eakin Young: What are you currently working on?

Gavin Turk: I just got back from an opening in Amsterdam's Museum Van Loon where I have created a whole exhibition based around tulips, particularly Turkish tulips. As well as my own pieces, there's a portfolio of works by other artists in the show. After, the show will move to the Bowes Museum in County Durham this summer. Alongside this, we have just had a kind of 'tulip baptism' in London.

PEY: What on earth is a tulip baptism?

GT: As of this week, I will have my own species of tulip.
PEY: What have you called it?

GT: Gavin Turkish. The flower farmers and the registrar initially vetoed the name, saying that there were too many tulips which were called Turk or Turkish. But when they realised my name was actually Gavin Turk, they couldn't resist. So this week – at The Print Room in London – there was a theatrical baptism. We had a stage act, and an exhibition of my tulip portfolio. I understand you're also taking to the stage at The Print Room later this year?

PEY: Yes, Remnants starts its run there in June. I began conceptualising the piece two years ago, workshopping ideas around women's neurosis and ghost stories. During research, I found a memoir written in the early 2000s by Courtney Angela Brkic. It had in it everything I wanted to say. It's about her family, the Bosnian war, and her migration to America. In the 90s, she went back to Bosnia to become a part of the forensics team that were digging up the graves of those killed during the war. I wondered, 'Why did she go back? What was she looking for?'

GT: It sounds interesting – but also heavy, without much get out. When we worked together on Triptych back in 2014, it had a jolly act in the middle, a tragic one at the end and an intriguing, questioning one at the beginning. Each of these components must pull together.

PEY: It is a heavy subject, and Remnants is a dark piece. But there are lighter ideas running through - like the music, which is a combination of original voice and traditional folk. We use something called klapa – a kind of warm, coastal, barbershop quartet, with lush vocal harmonies. So there's balance. I don't want to destroy my audience, but I want to make them think.

PEY: In the memoir, Brkic talks a lot about the separate cultures of Bosnia, and how they started drawing lines between themselves in the early 90s. It's funny, I started working on this project two years ago – since then we've gone through Brexit and Trump. It reminds us that fissures in society can be aggravated. After Brexit, biking around London's East End, as a Canadian immigrant myself, I felt paranoid.

GT: The general consensus round here was that we were going to stay inside the European Union. It was strange to find out the result, and it's a confused state that we are in. As an artist, I always thought it was my job to be confused. Artists articulate confusion. Now that everyone is confused, perhaps every one is an artist! I don't know. Maybe that's what works about creating art around difficult subjects at the moment. The audience can pitch it against their own life experience.
An early version of Remnants was performed last year at The Print Room in London, where it will return for a full run this June

PEY: Since working with you in 2014, I've been trying to render these ideas of confusion and disjointedness in each project I do. I want to surprise people with my contemporary, experimental genre of opera. After Triptych, I staged a production in the MET museum in New York, called La Celestina (2015). I like the interaction between artworks and my productions. For instance we're making a concert performance of Remnants on Friday at the Marian Goodman gallery, in amongst Annette Messager's exhibition on uteruses – which will probably be a perfect setting!

GT: Yes – it's great when the set (whether immersive or otherwise) can become like an additional character. In the production we worked on together, I tried to create a set that acted as the fourth part of the triptych.

PEY: What I loved about your Tripytch set was its use of your own artistic practice. It featured your interest in copying or forgery. Your painted bronzes look so much like the real thing, but there's something fake about them. Like with Bag – it almost looks like a real trash bag – but not quite. It's like when you Google translate something over and over again, it shapeshifts and starts to tell its own story. That was kind of what I was trying to do with my theatre company – create something disjointed from opera in the traditional sense. Do you have plan to create a theatre set again?

GT: Nothing solid yet. Triptych was my first theatre commission, but you look into art history and find countless artists have worked on theatre sets. Think Dada and David Hockney. Picasso did a whole load of them. But generally it seems to be 'make a large artwork', and then the performance happens in front of it. Maybe that's okay.

PEY: I'd like to create something where the art is the starting point, and allow the drama to flow from there.
INFORMATION
Remnants runs at The Print Room from 12 June – 1 July. 'Turkish Tulips: Gavin Turk' is on view at Museum Van Loon until 29 May. For more information, visit the Erratica website and Gavin Turk's website
ADDRESS
The Print Room
103 Notting Hill Gate
London W11 3LB
Museum Van Loon
Keizersgracht 672
1017 ET Amsterdam
VIEW GOOGLE MAPS (opens in new tab)
Elly Parsons is the Digital Editor of Wallpaper*, where she oversees Wallpaper.com and its social platforms. She has been with the brand since 2015 in various roles, spending time as digital writer – specialising in art, technology and contemporary culture – and as deputy digital editor. She was shortlisted for a PPA Award in 2017, has written extensively for many publications, and has contributed to three books. She is a guest lecturer in digital journalism at Goldsmiths University, London, where she also holds a masters degree in creative writing. Now, her main areas of expertise include content strategy, audience engagement, and social media.