Gary Simmons on the erasure of racist tropes: 'I don't want them to be forgotten for their menace'
In Gary Simmons' new show, 'This Must Be the Place' at Hauser & Wirth, London, the artist explores the process of cultural erasure, and the traces it leaves behind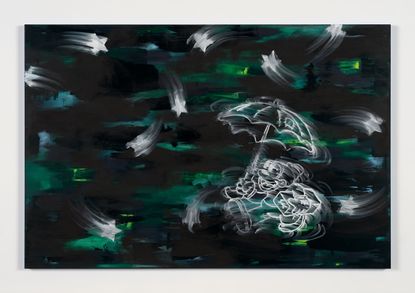 (Image credit: Keith Lubow. © Gary Simmons Courtesy the artist and Hauser & Wirth)
Gary Simmons came to success in the recession of the early 1990s in what he thinks of as a window of market correction that left New York's surviving galleries with empty walls waiting to be filled. This led to a series of commissions and shows including participation in the landmark group show 'Black Male', curated by Thelma Golden. In this moment of chance, Simmons and his peers grabbed what could have been a fleeting moment, and shone.
'It was a great opportunity and at the same time you also felt that you were unsure when it was going to end; you almost expected it to end, like the party's over,' Simmons recalls as we sit to talk at Hauser & Wirth, London, where he has just opened a new show, 'This Must Be the Place'. 'So, these memorable moments and installations and statements, I think that is the difference between then and now; this was during moments of crisis, the Aids crisis, the financial crash, [and] different race issues going on with not only the politicians but also with police – there was a response from the artists on the walls.'
'This Must Be the Place' at Hauser and Wirth's London comes ahead of Simmons' first survey 'Public Enemy', opening at MCA Chicago in June 2023. The artist is on buoyant form as he looks both back at his career and forward to this career milestone, which will feature iconic works such as The Black Ark and Garden of Hate.
The London exhibition, which features a series of paintings and his first large sculptural works, contains all the motifs we would expect from Simmons. We see a layered and scraped-back painting featuring a blurred 'Bosko', the racist 1930s Looney Tunes character, a sculpture of the famous crows from Dumbo and a series of black and white stars, blurred by hand. This process of erasure evokes lost histories in tandem with the artist's desire to somehow memorialise the existence of these tropes, and in turn, shed light on the issues of today's cultural landscape.
'I don't want people to not remember or idealise moments. I think that we have a way, whether it's a cartoon or an event, of treating it; if it was good then we sort of even make it bigger than it was, if it was bad, we make it worse than it was. I guess the nature of memory is to abstract it and it never gets fixed… We take a photograph to preserve a moment, but that's a distortion of that moment…Disney and cartoons are like that. I don't want them to be forgotten for their menace. I think it's important to know that those things were once embedded into something that presented itself as one thing, but it has this undertone, this undercurrent.'
Simmons describes these elements of the cultural landscape as ghosts haunting the common consciousness and captures them in canvas form. 'Some of the backgrounds take such a long time to develop and I never really know truly where they're going,' Simmons explains. 'It just keeps going and then the painting just tells me when it's ready for what sits on top of it. It creates this sense of depth. I think that the haunting comes in when those colours flash as those moments pop out.'
Sometimes these flashes are not tropes but stars; be they shooting stars, star showers or a lone black or white star, they sum up the space between the magical and the tragic, flaming out as they cross the sky. Flanked by the birds evoking Jim Crow and Hitchcock's The Birds, these paintings show an optimistic side to this radical artist even when cohabiting with more sinister elements of history.
Gary Simmons, 'This Must Be the Place', until 29 July 2023, Hauser & Wirth London. hauserwirth.com