Gary Hume keeps it in the family at Sprüth Magers' newly revamped London gallery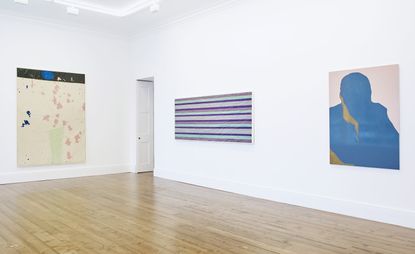 (Image credit: Stephen White)
Mum's the word at the refurbished Sprüth Magers in London — finally complete and open to the public after extensive renovations that have taken more than a year. The gallery of the German art dealer duo has now expanded across three floors of the 18th-century building on Grafton Street, with its recognisable black-painted Victorian shop window.

YBA painter Gary Hume has taken over the multi-storey space for its debut, just in time for Frieze Week. Known for his colour-block aluminum paintings, 'MUM' also features works that introduce a fresh painting method for the artist: domestic gloss on paper. The flat, finessed surfaces of the paper works, at first apparently abstract and easy, belie a very personal subject matter.
Each references a scene plucked from childhood recollections, objects, and photographs of Hume's own past: close-ups like Cheap Sweets (2016) with it's nostalgic red and white stripes and Mum's Cardigan (2015) act like visual vignettes, fragments of feelings that allude to the disembodied nature of memory.

The show is primarily—as the title suggests—a mediation on Hume's relationship with his mother. Two contrasting central paintings in the show, Mum Twisting (2015) and Mum (2017), try to grasp his mother's image, literally in the case of the earlier paintings, which depicts his mother's twisting cheesecloth skirt from a child's viewpoint.

In the later, larger-scale work, his mother's features fade into the painting itself – an attempt to capture her image as it is lost. It recalls Barthes' bereaved contemplation of his mother's photograph in Camera Lucida: 'For what I have lost is not a Figure (the Mother), but a being; and not a being, but a quality (a soul): not the indispensable, but the irreplaceable.'
INFORMATION
'Mum' is on view until 23 December. For more information, visit the Sprüth Magers website (opens in new tab)
ADDRESS
Sprüth Magers
7A Grafton Street
London W1S 4EJ
Charlotte Jansen is a journalist and the author of two books on photography, Girl on Girl (2017) and Photography Now (2021). She is commissioning editor at Elephant magazine and has written on contemporary art and culture for The Guardian, the Financial Times, ELLE, the British Journal of Photography, Frieze and Artsy. Jansen is also presenter of Dior Talks podcast series, The Female Gaze.