Mountain view: Gabriel Orozco presents a fresh body of work at the Aspen Art Museum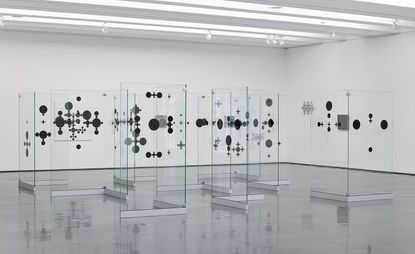 (Image credit: Gabriel Orozco)
Mexican artist Gabriel Orozco has lived and worked in many places – Berlin, Mexico City, New York, Tokyo and Paris are just a few – but he has not been to Aspen, Colorado. This comes as a bit of a surprise, considering his latest solo exhibition at the Aspen Art Museum is a near-perfect match for Colorado's verdant mountains. Orozco's most recent collection of paintings is soft and lush with dreamy brushstrokes and flecks of gold leaf – a grand departure from the surreal modernist sculptures, photographs, prints and drawings for which the 54-year-old artist is known. Nancy and Bob Magoon CEO and director Heidi Zuckerman first spied a few of the paintings in Orozco's Mexico City studio and she convinced him that Aspen Art Museum would be the perfect place to show the work. 'I basically asserted myself,' she says. 'I said, "We need those paintings to be in Aspen."'

Although the repetitive circular shapes are a common motif in Orozco's work, he has not used the colour green in nearly 20 years, preferring the 'spiritual synergy among reds, blues, whites and golds' instead. 'Orozco has been around a long time as an artist, so it is special to see such a unique departure,' Zuckerman says.

Two sculptural bodies of work are included in the show: a maze of glass panels with screen-printed DNA-esque black dots and a series of smaller bulbous silver forms. Orozco refers to the smaller, silver sculptures as 'mosquitos' because they are strategically placed on the wall to playfully disrupt the exhibition's flow. The artist is also the recipient of the 2016 Aspen Award for Art; that he is simultaneously showing at the museum is a fortuitous coincidence that has only happened twice in its history.
INFORMATION
'Gabriel Orozco' is on view until 18 December. For more information, visit the Aspen Art Museum's website
ADDRESS
Aspen Art Museum
637 East Hyman Avenue
Aspen, Colorado