Frozen forms: dance inspires Adam Silverman's new sculptural installations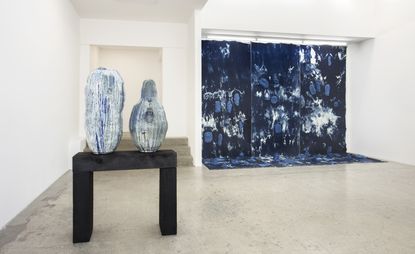 (Image credit: Brian Forrest. Courtesy of Cherry and Martin)
'For a couple years I've been working on how to have pieces become compositions,' says ceramic artist Adam Silverman, standing amidst several new sculptural installations at Cherry & Martin, where he just unveiled his debut solo show, 'Body Language,' with the Culver City gallery over the weekend. 'A lot of this was looking at ways to do still-lifes.'

Though the works in this new exhibition, which have been developing for almost a year, aren't overtly referential to any source images or inspirations, they are meant to evoke the gestural and anatomical features of dance.

'I think about the photography of dance where someone captures a moment that nobody saw or wasn't intended by the dancer. The choreographer is not thinking about it, and it doesn't really exist as a moment. And then sometimes dance stops and something physical and static is created,' says Silverman, pointing to the pageantry of his new works, most of which are balanced atop stands (of varying heights) made from burnt Japanese shou-sugi-ban lumber. 'This is a moment of frozen motion, the form is frozen at a certain point, the wheel stops, my hand stops, and then later there's the motion of people around them.'

Inside a little cove in the anterior gallery, Silverman also made a feint at painting with a site-specific installation' featuring rolls of tie-dyed indigo denim unspooled down the walls and floors that are fitted with matte blobs of clay glazed in Yves Klein-like blue that almost feels like a bleached out altar from some defunct surf cult. He says it can also be read as a nod to the conceptual arrangements of American dancer Merce Cunningham.

'I studied architecture but my girlfriend in college was a dancer, so both of those things are always inside me,' says Silverman, who made the denim with the idea of using it as some type of painting while the clay could work as an assemblage. However, he didn't bring everything together until he was challenged by the architecture of the gallery. 'When you think about how Merce Cunningham would do choreography it was in a vacuum with someone doing the set, costumes, and music separately and they would merge together in the space.'

More spatial dynamics play out between two indigo glazed pieces in the vestibule that appear to mimic the torsos of dancers (with some decorative elements that evoke some kind of abstract, ancient language).

'It's two bodies that are creating another body and then a negative space, which is as important as each of the works,' says Silverman, who typically makes a group of forms that sit unglazed for months until he decides on a technique. To wit, beehive-like works are marked by big brush strokes of green glazes, a piece beneath it is the result of pouring multiple hues of blue; and a crackled white ovoid was made from three different clays smeared over the original form with three different glazes, some of which are chipped off to expose raw patches of clay. Though perhaps the most exciting moments come in the form of his new still-lifes, which balance egg-like forms against rough planar crags. 'I like how they read flat from the front and then are very spatial from the side,' says Silverman. 'There's a lot of violence in it.'

As Jim Morrison once said, violence isn't always evil, it's our infatuation with it that's the problem. Unfortunately for us, it's hard not to be become smitten with Silverman's sexy new body language.
INFORMATION
'Adam Silverman: Body Language' is on view until 14 May. For more information visit the Cherry and Martin website (opens in new tab)
ADDRESS
2712 S. La Cienega Boulevard
Los Angeles, California 90034
VIEW GOOGLE MAPS (opens in new tab)